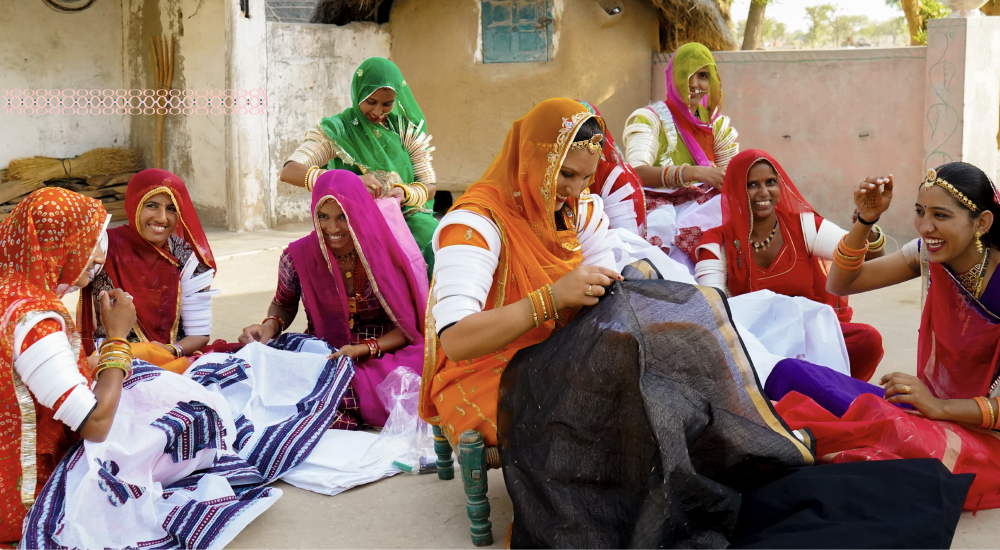 brand and its purpose
Ruma Devi is a sustainable brand that reminds the world of the richness of India's handicraft heritage. It bridges the gap between the artisan and the aesthete – connecting buyers directly to the makers of the uniquely crafted pieces.
Ruma Devi: The journey of a visionary
How does a motherless Barmer girl become a businesswoman? Ruma Devi's inspirational journey tells you how.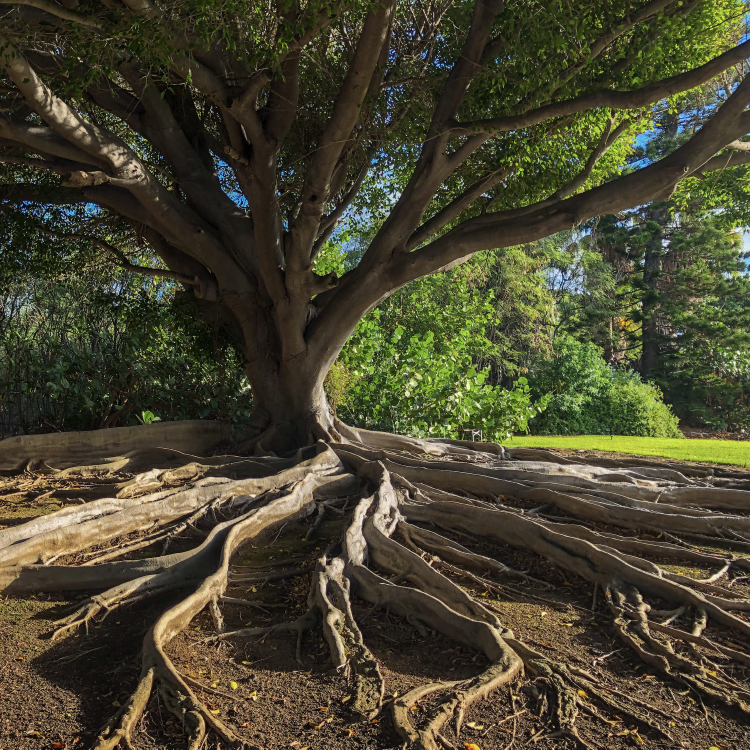 Strengthening roots
'Pehle jab hum kehte the ki hum Barmer se hai, kafi logo ko pata bhi nahi hota tha Barmer kaha hai.'
Ruma Devi was born in Barmer – a small, out-of-the-way village in Rajasthan that not many people know of. Tragedy struck her young when she lost her mother at the age of two. Financial insecurities took away her chance at an education. She was forced to drop out of school after the 8th standard, and was married at 17.
Ruma Devi turned to embroidery as a means of income – a skill that was passed down to her from her grandmother, tying her to generations of Barmer women before her.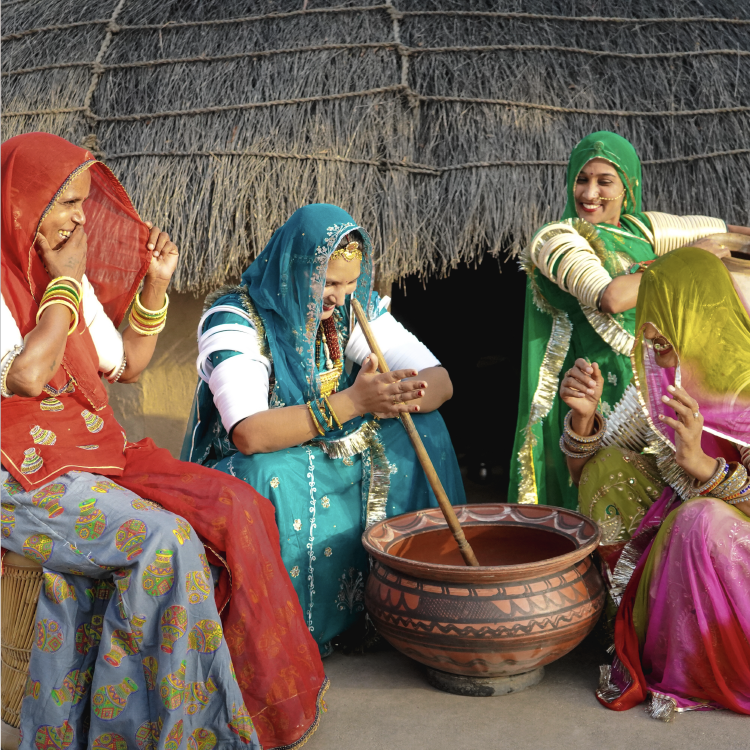 Forming a sisterhood
'Mujhe laga mere jaise jitne behne hai jinke pas koi income ka source nahi hai, unko bhi main sath mein jodungi.'
Ruma Devi's visionary attitude shone through, right from the start. When her embroidery work started drawing an income, she wanted to facilitate the same for others like her. She went from home to home, motivating women to step out and take up work. She formed a group of 10 women, and together, they pooled in money to buy a sewing machine. This helped them scale up and accept bigger orders.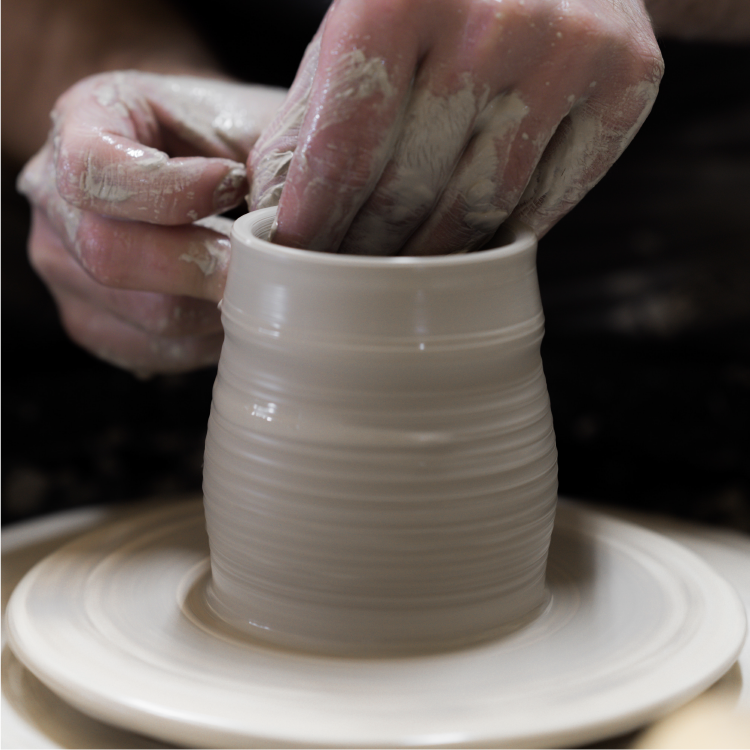 Reshaping mindsets
'Gharwalo se baat karna, ados-pados kya bolenge wo sochna – ye sari cheezein side mein karke maine shuruwat ki.'
Conservative mindsets and the 'Purdah' system were a huge roadblock for Ruma Devi. She had to navigate restrictions herself before she could step out of the home. She then faced it in her larger community. Other households were wary of letting their women work, lest they become 'too independent'. 
Ruma Devi kept the women's own wishes in sight, and motivated them with her own success. The day she was able to rent an apartment for her team to work in, was a huge milestone!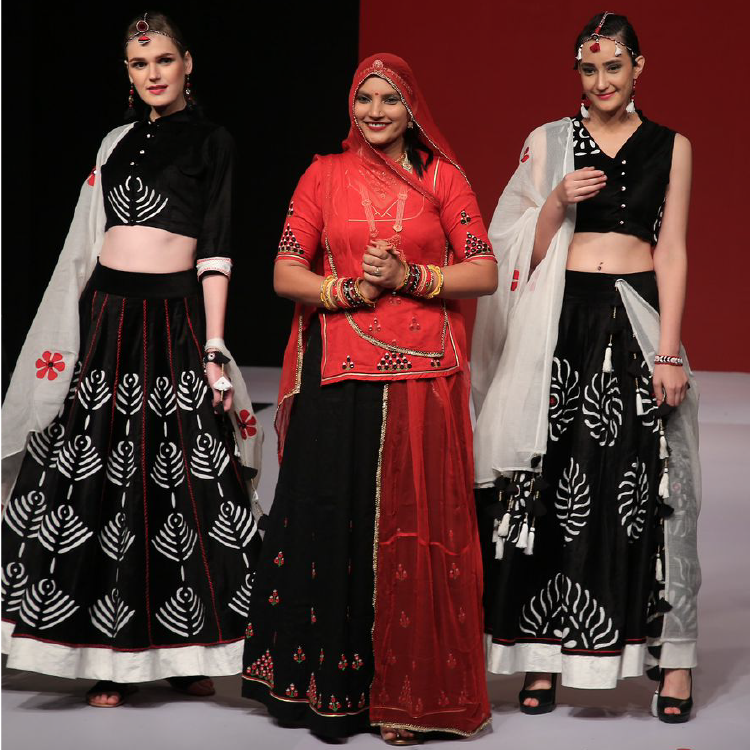 Ramping up their impact
'Fashion shows designers ka kaam hai. Yeh aapka level nahi hai. Aap jaha kaam kar rahe hai wahi aapke liye better hai.'
Ruma Devi never imagined their work had a place on fashion ramps. Finding out about heritage fashion shows was a revelation! But they were told that artisans had no business trying to get on the same level as designers.
But once the dream was in place, Ruma Devi was not ready to let it go. She and her team put together a small collection for Rajasthan Heritage Week, and showcased it on the ramp alongside renowned designers. The show ended with them receiving a standing ovation.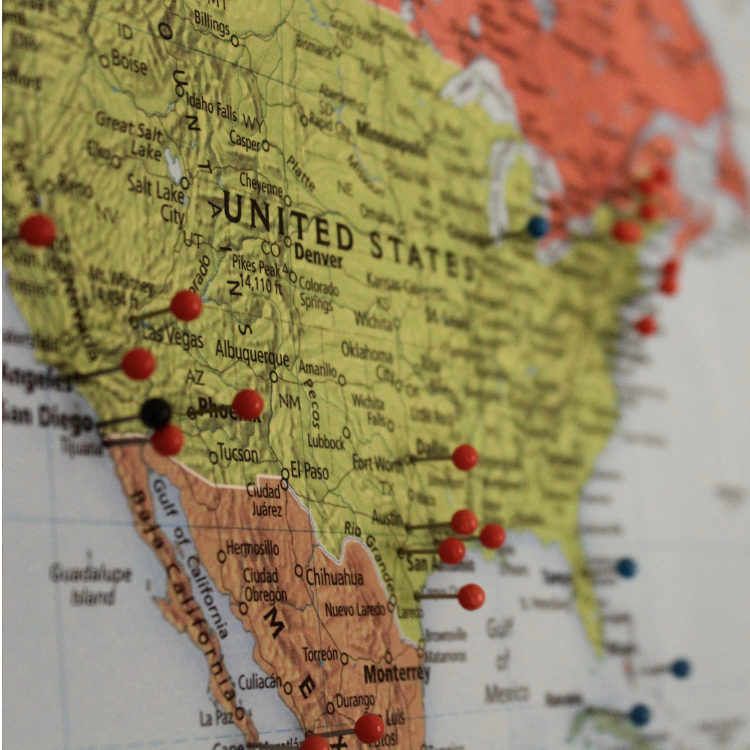 Going global
'Jab Harvard se mail aaya mujhe laga main waha jake kya karungi? Mujhe toh English mein baat bhi nahi karni aati hai.'
Ruma Devi's success at the Rajasthan Heritage Week opened new doors that took her team to the biggest fashion shows, to Kaun Banega Crorepati, and other big platforms. An email from Harvard left her shocked – that young girl who never even got to graduate from school, was being invited to speak at the renowned university!
These opportunities enabled her to train and upskill more women and grow her team. Today, the journey that she started alone is a sisterhood of 30,000+ artisans.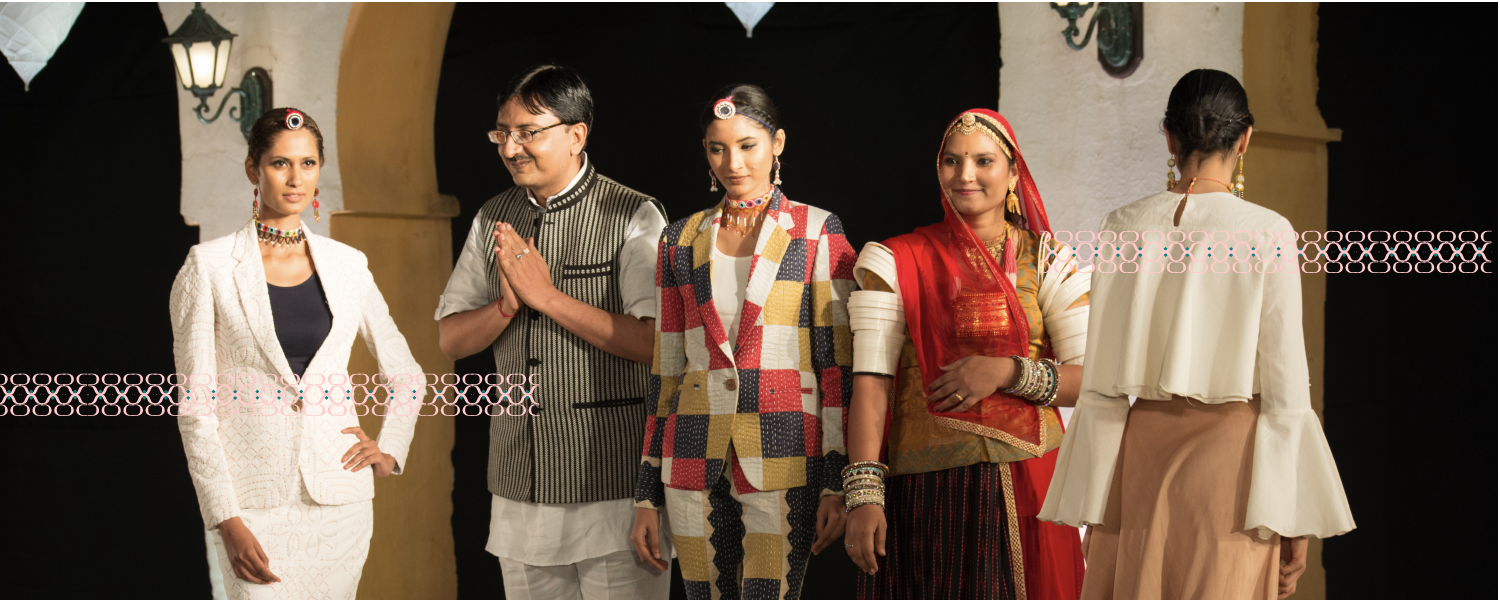 Artisans turn designers
Here at Ruma Devi, we believe that artisans are no less than designers – and thus deserve equal visibility. Our success at these fashion shows proves that the world agrees.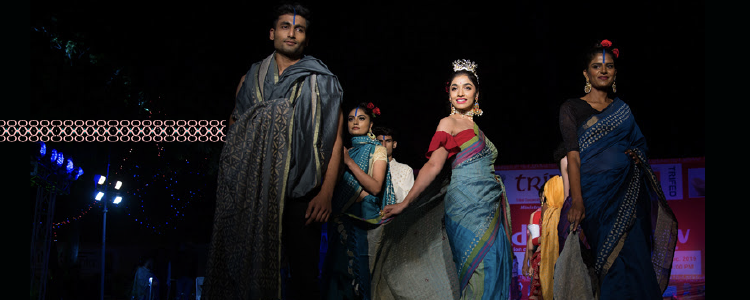 Fashion shows
London Fashion Week
Tribes India Aadi Mahotsav
Rajasthan Heritage Fashion Week (2016 and 2017)
IHGF Fashion Show
Indian Fashion Jewellery & Accessories 2018
Tribal Fashion Art and Craft Promotion Show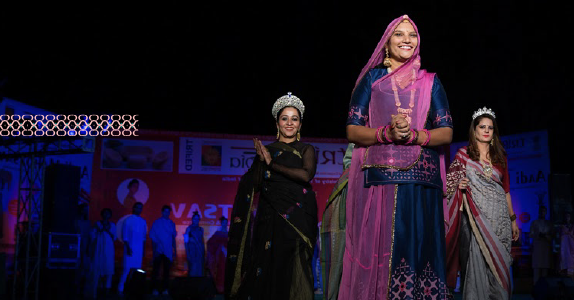 Fashion shows
EPCH Fashion Show
Textile Fair India
Antarrashtriya Puraskar Mela Khadi & Heritage
India Style Fashion Week
A Tribute to Barmer Fashion Show
The brains behind the brand
Meet the team that makes Ruma Devi the brand that it is today.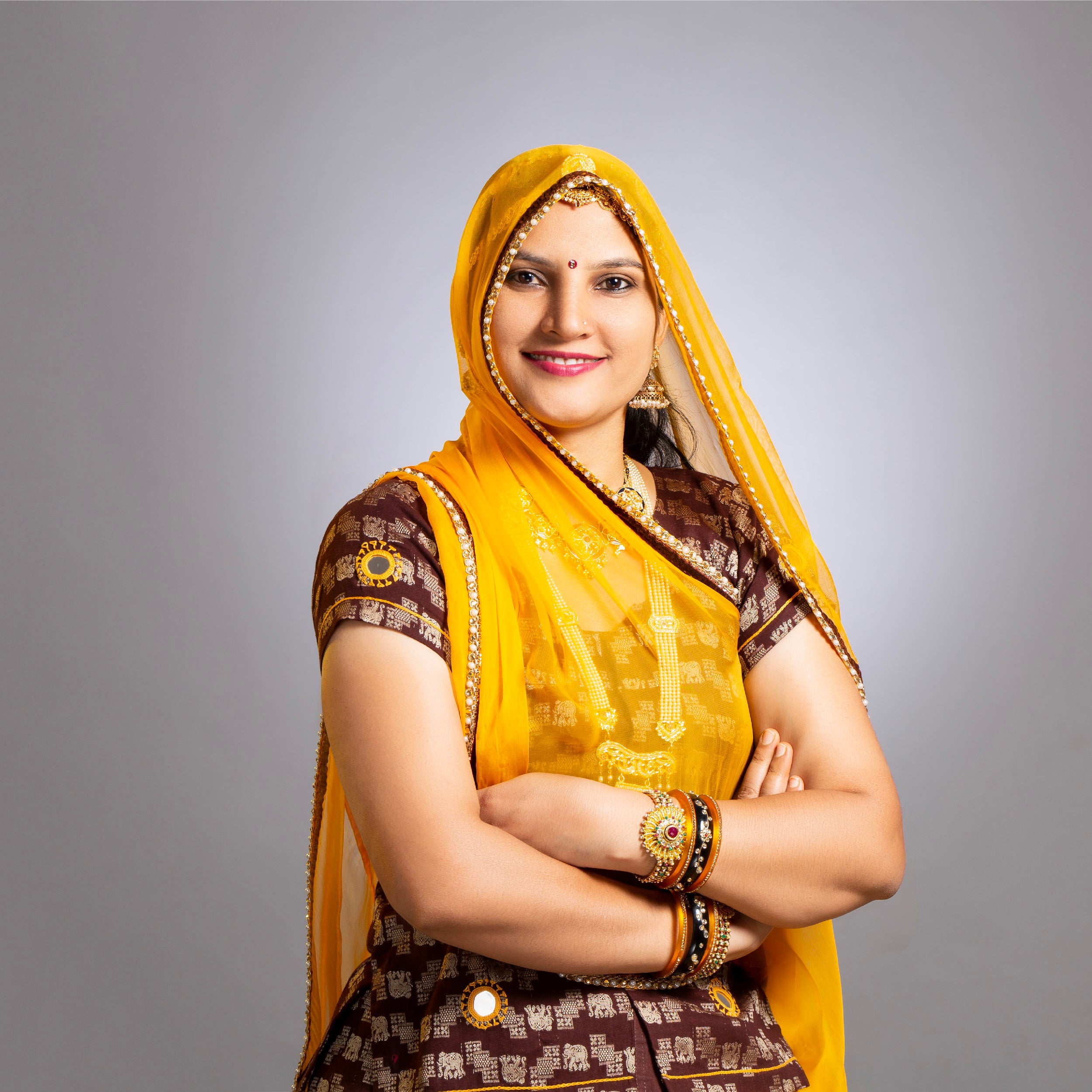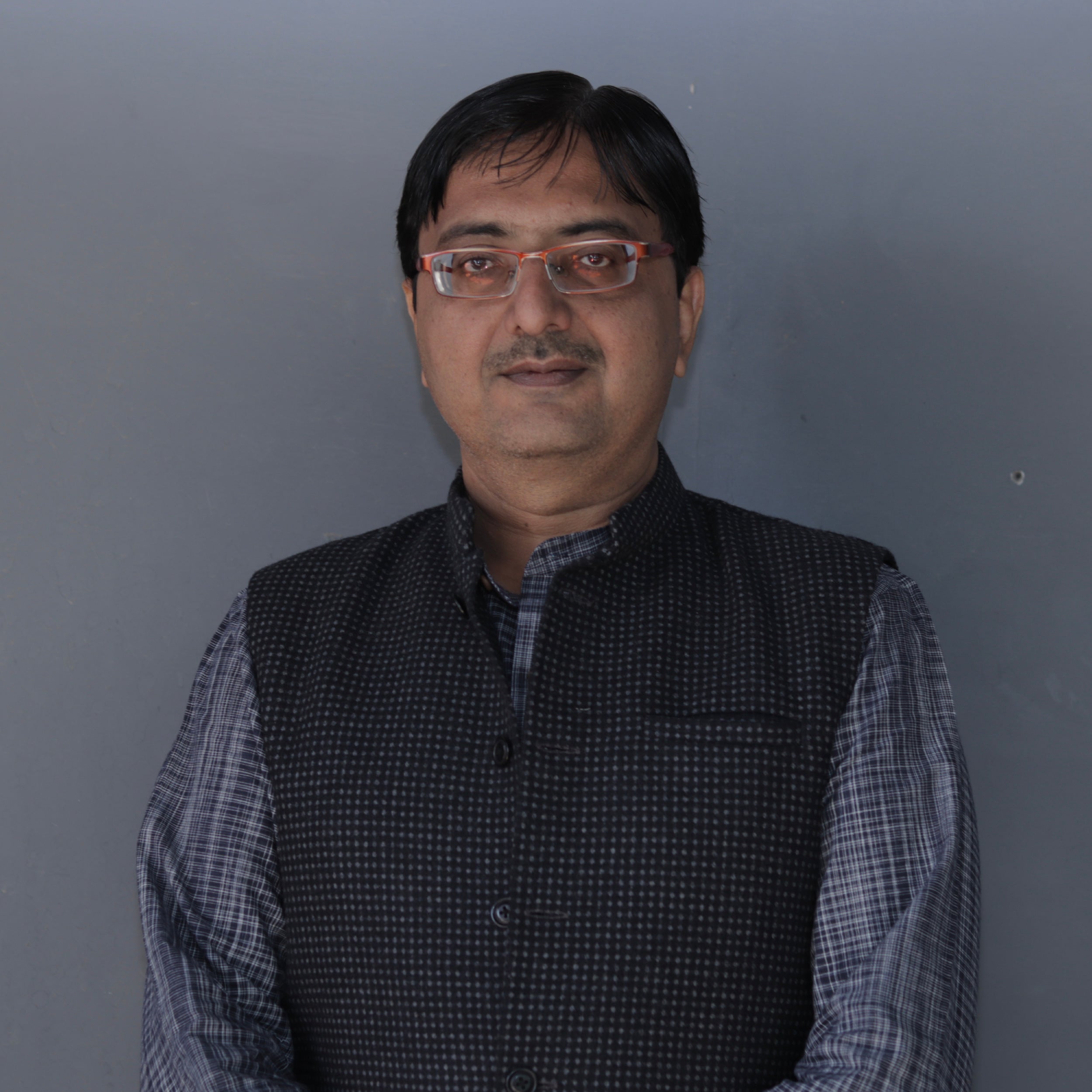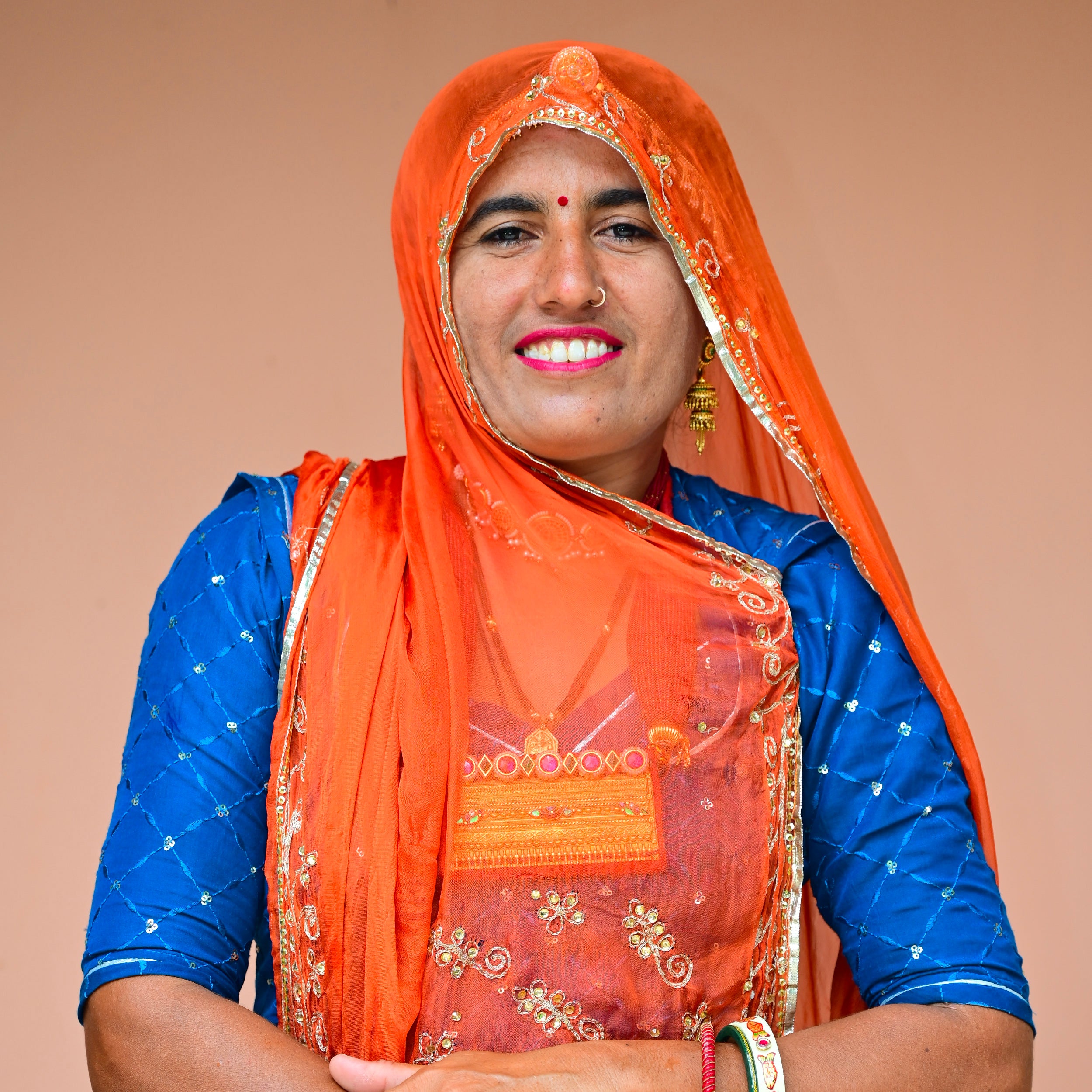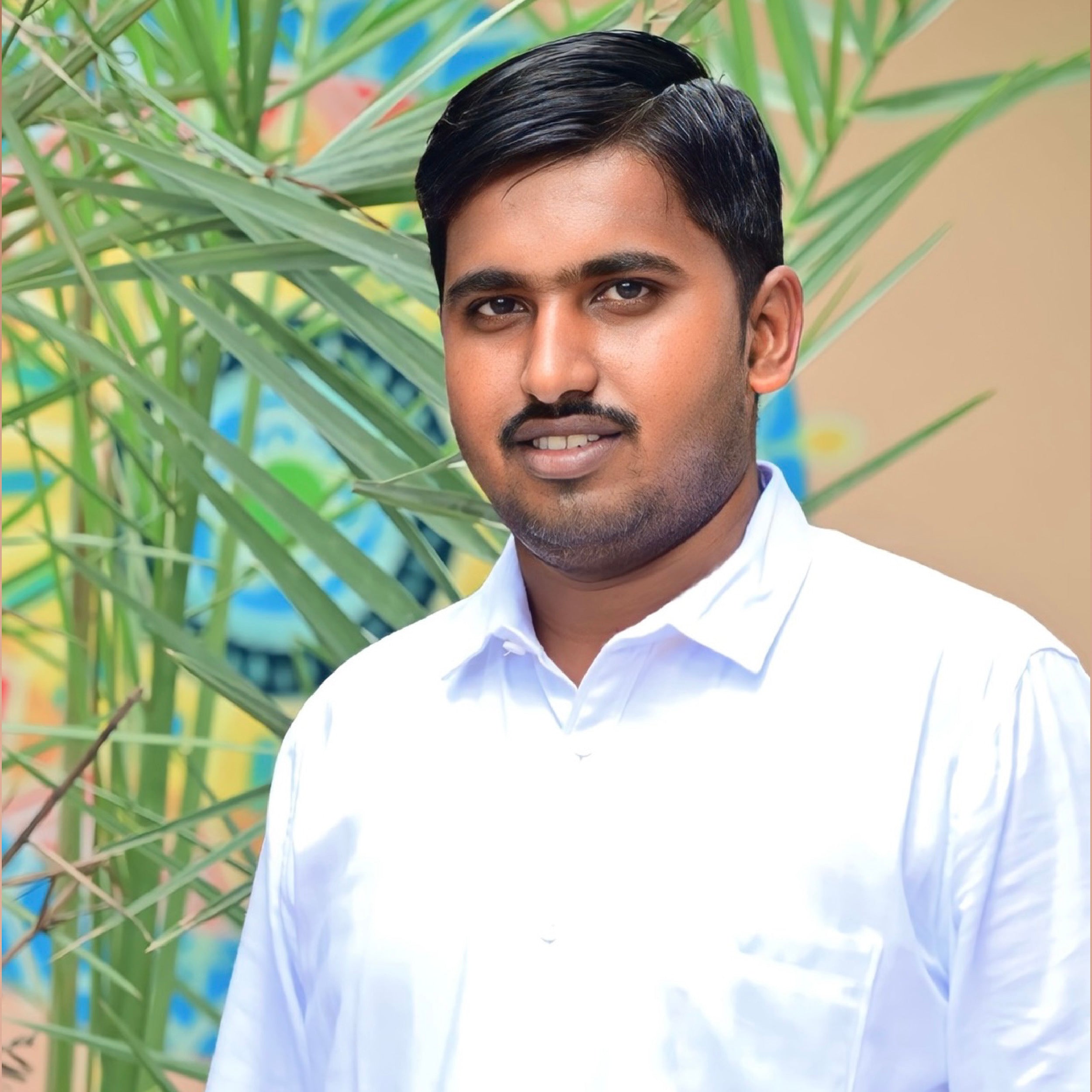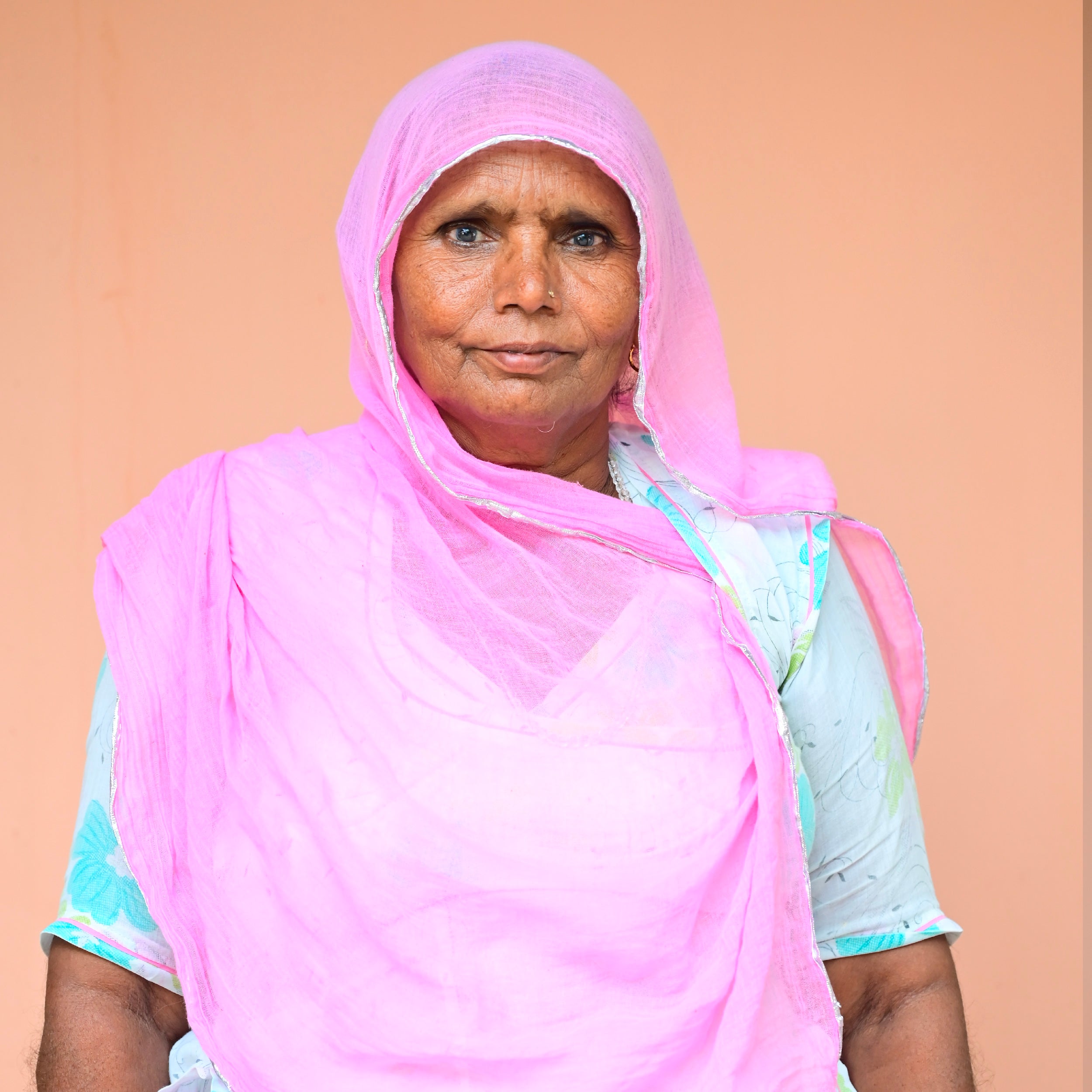 Ruma Devi: Creating a buzz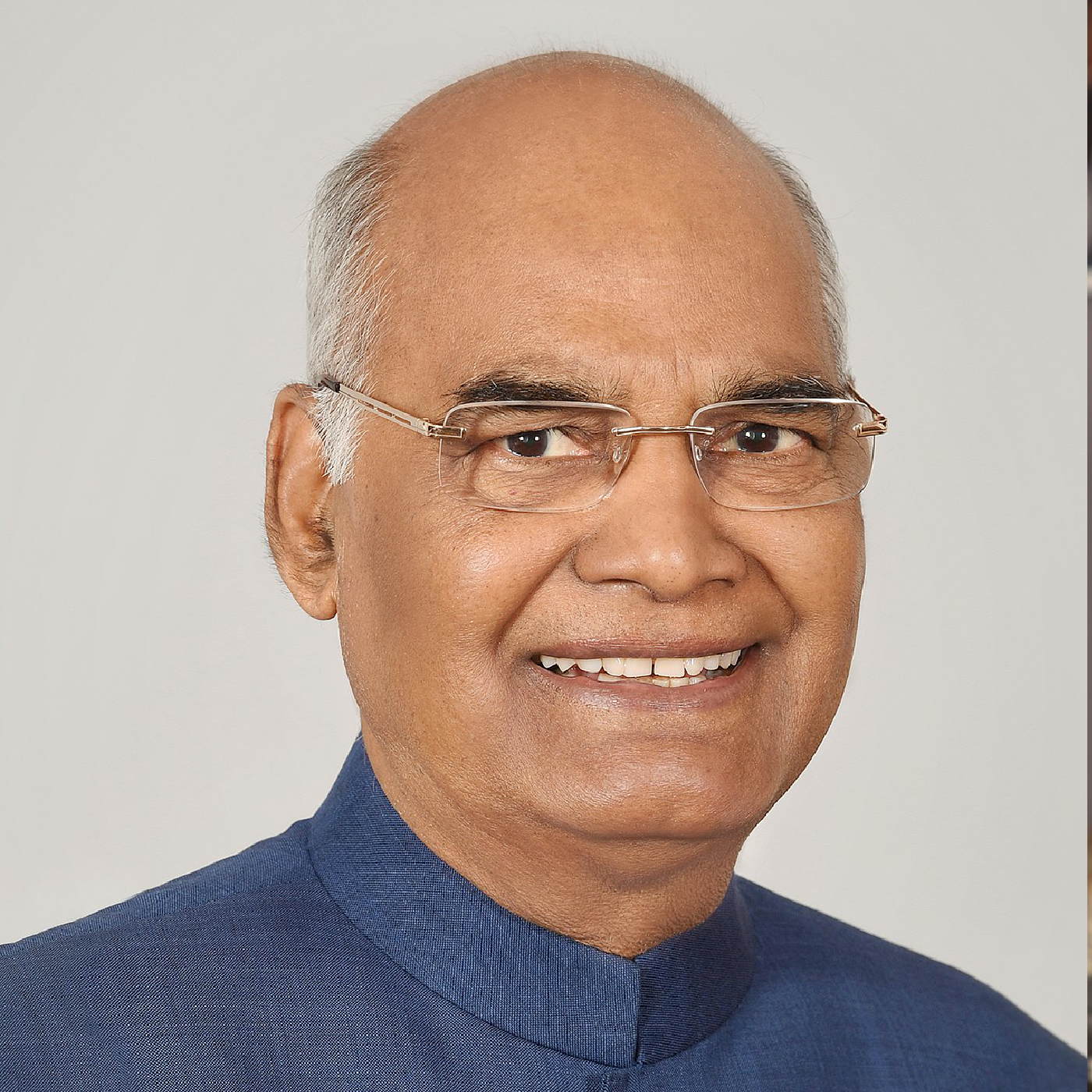 Ramnath Kovind, Former President of India
"Ms. Ruma Devi's unwavering advocacy for the rights of women artisans is commendable. Through GVCS, she has empowered thousands of artisans, making a significant impact in 75 villages. Her work is truly inspiring."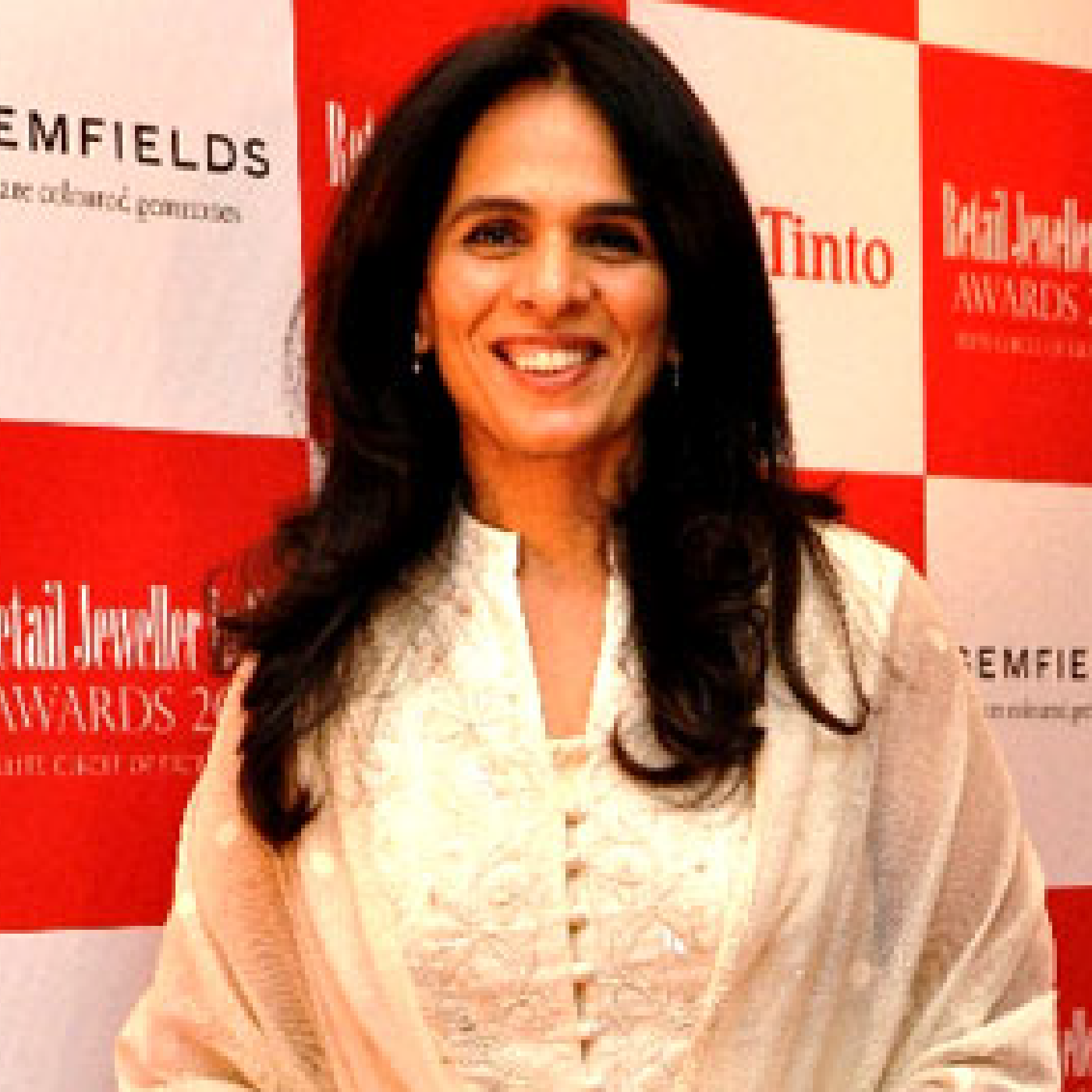 Anita Dongre, Fashion Designer
"I am deeply moved and humbled by the exceptional craftwork of Ruma Devi and her team. I eagerly look forward to a creative and long-lasting association with them." -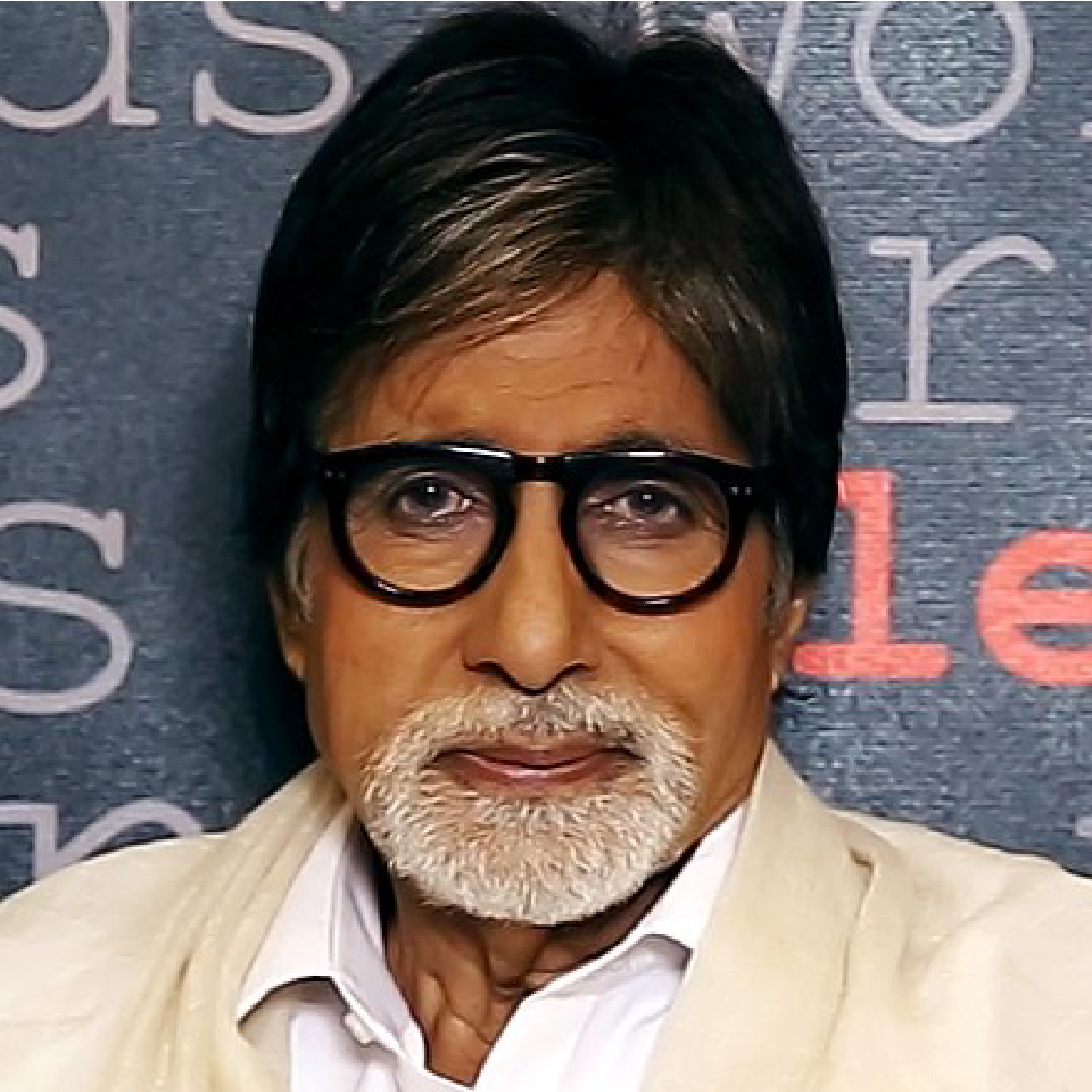 Amitabh Bachchan, Actor
"Ruma Devi's incredible journey is a testament to the transformative power of embroidery. She has uplifted countless women from helplessness, making her an extraordinary force in the fashion world."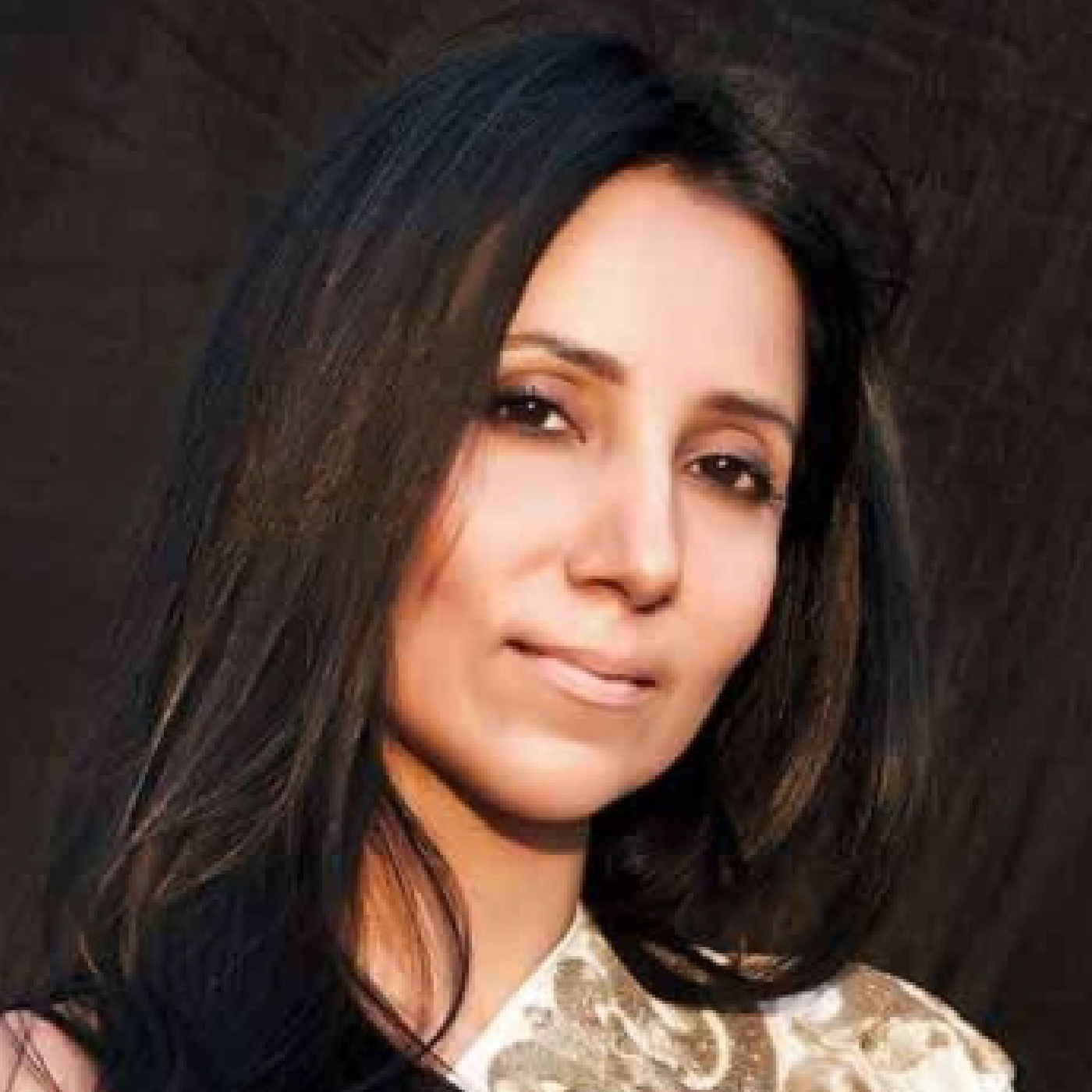 Anamika Khanna, Fashion Designer
"Becoming a fan of Ruma Ji was inevitable for me. I hope to have the privilege of collaborating with her someday. She is an inspiration to the fashion industry."
Ashok Gehlot, Chief Minister, Rajasthan
"I wholeheartedly congratulate GVCS for their remarkable contribution to the global craze for handcrafted items. Ruma Devi's efforts have not only changed lives but have also showcased the immense talent of rural women."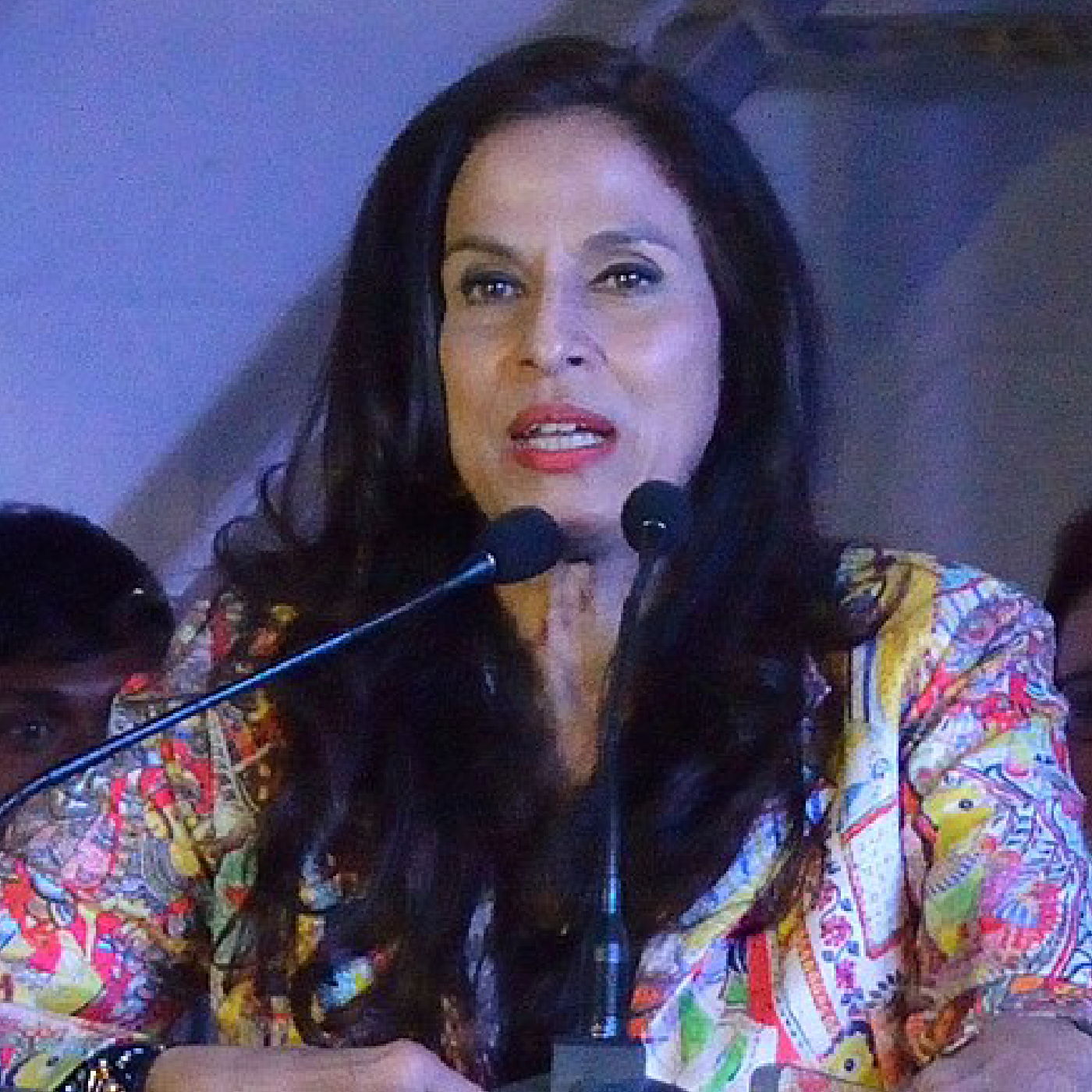 Shobha De, Indian columnist and novelist
"Ruma Devi is an extraordinary and inspiring individual. Her talent, determination, and leadership have established her as a beacon of empowerment for women. She exemplifies the true power of women." - Shobha De, Indian columnist and novelist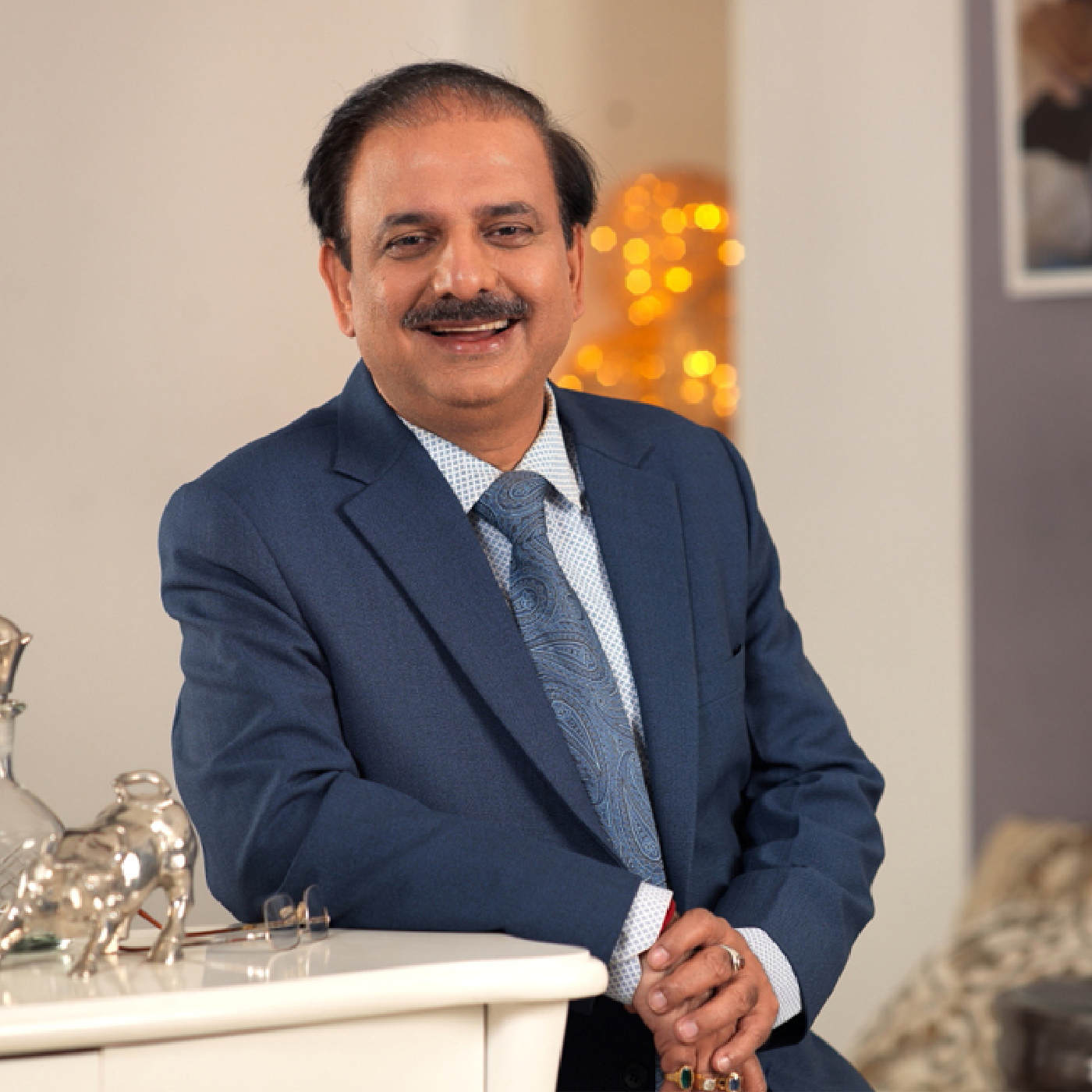 Rakesh Kumar, Director General, EPCH
"Ruma Devi is an absolute inspiration and role model, proving that determination can overcome limited resources and opportunities. I wish her and her NGO continued success."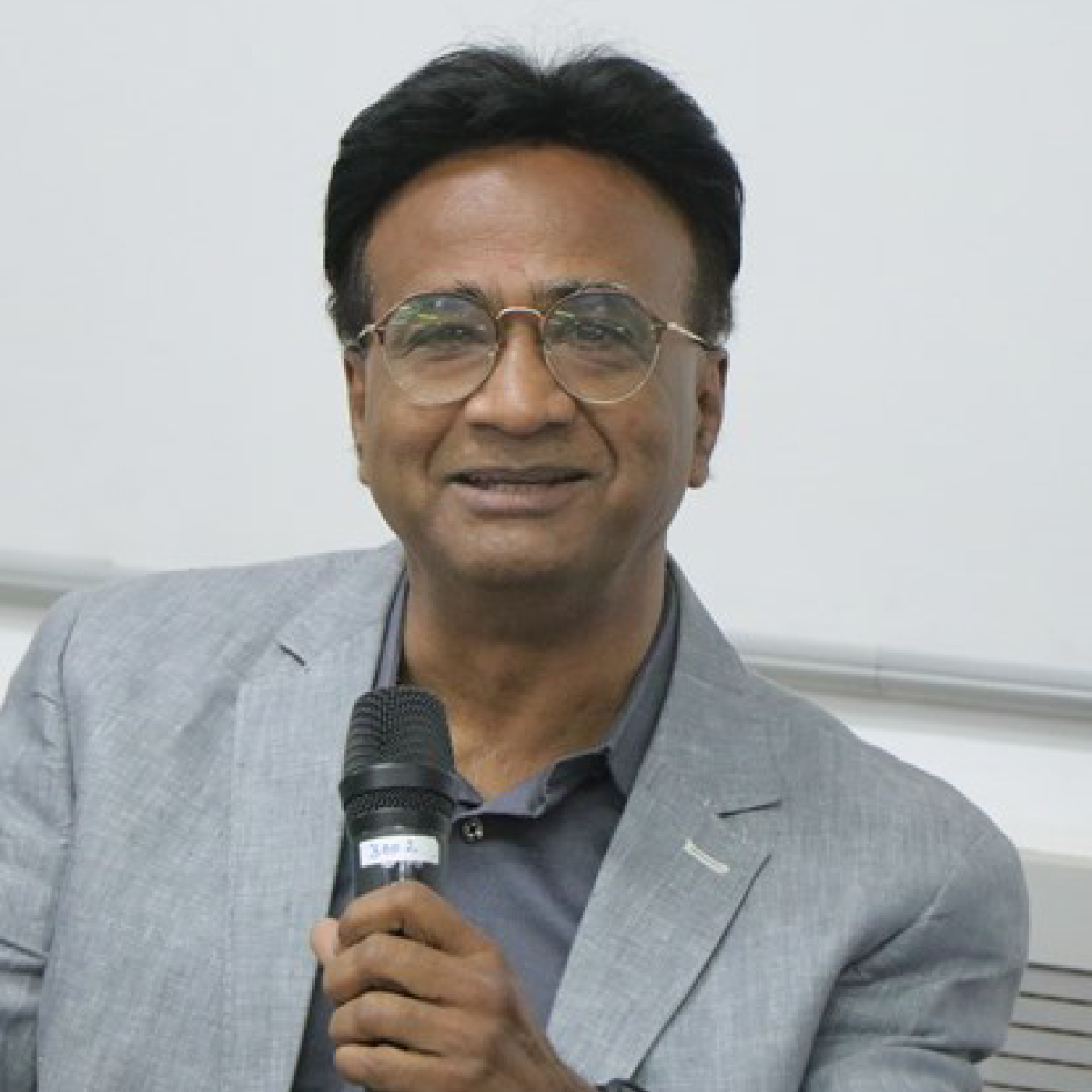 Pravir Krishna, Managing Director, Tribes India
"Ruma Devi's dedication to protecting and empowering tribal artisans is truly admirable. Her appointment as our Goodwill Ambassador and Chief Designer is a testament to her relentless fight for handicrafts and artisans."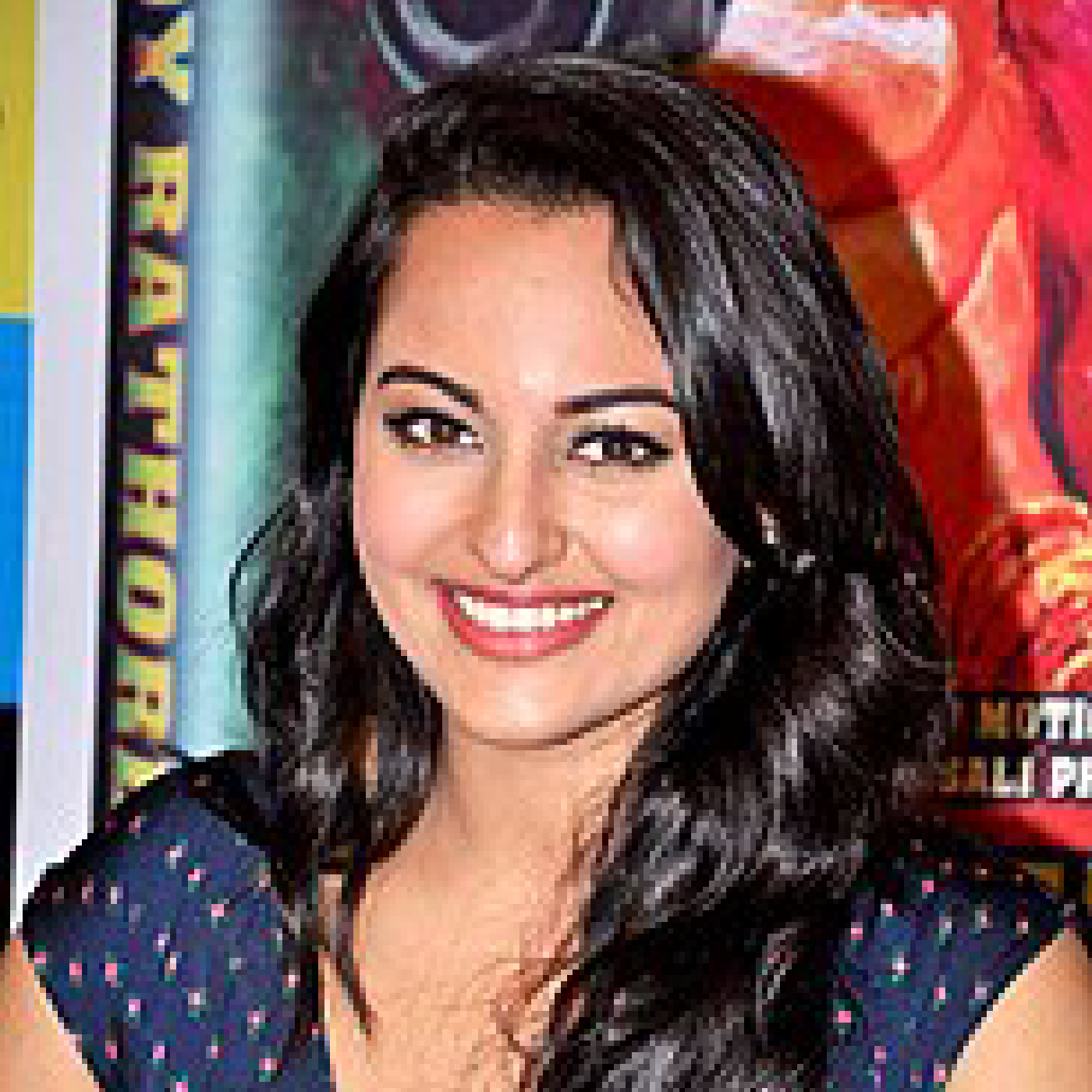 Sonakshi Sinha, Actress
"Ruma Devi's selfless dedication to helping women is truly remarkable. Her impact goes beyond herself, touching the lives of numerous women. It's an extraordinary feat that deserves recognition."
Awards & accolades
Ruma Devi is honoured to have been recognised on these platforms.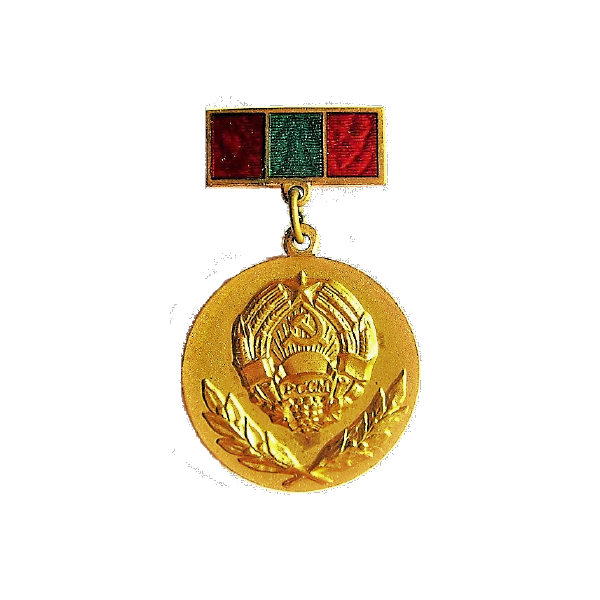 March 2020
Awarded an honorary Doctorate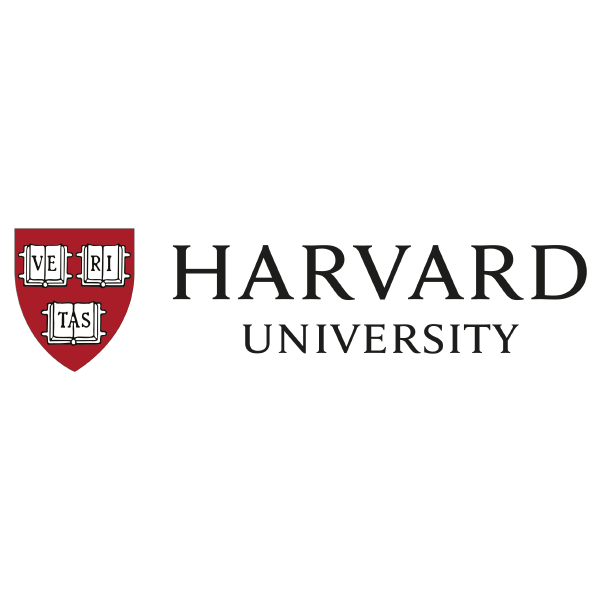 february 2020
Became a panellist and speaker at Harvard University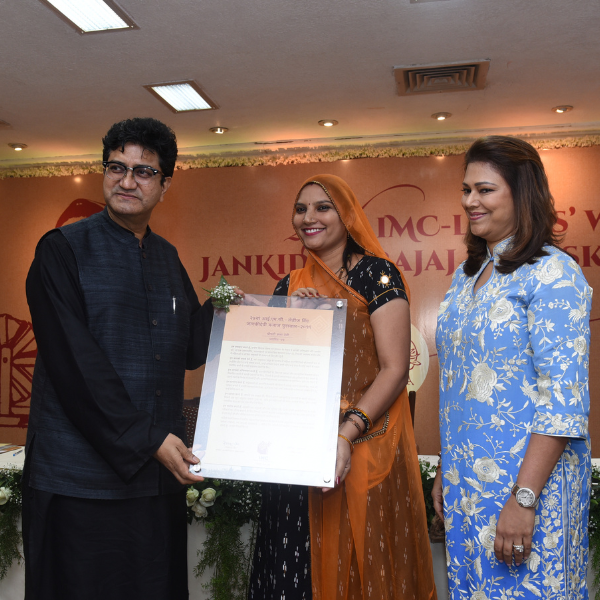 january 2020
Awarded the Janaki Devi Bajaj Puraskar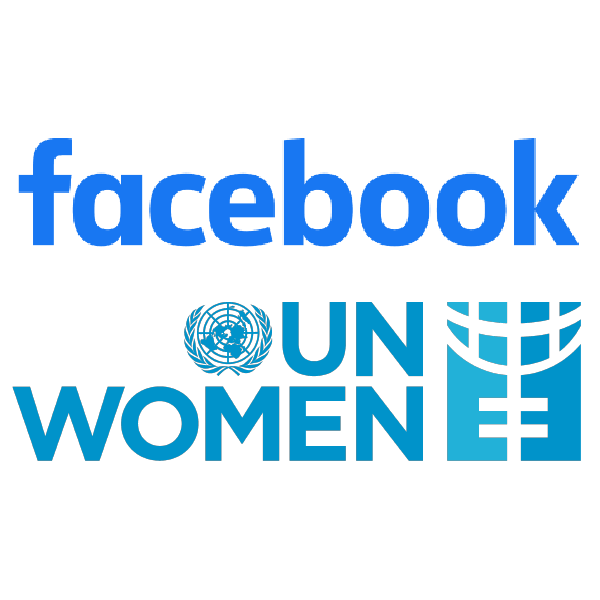 september 2019
Won the H.E.R Award issued by Facebook and UN Women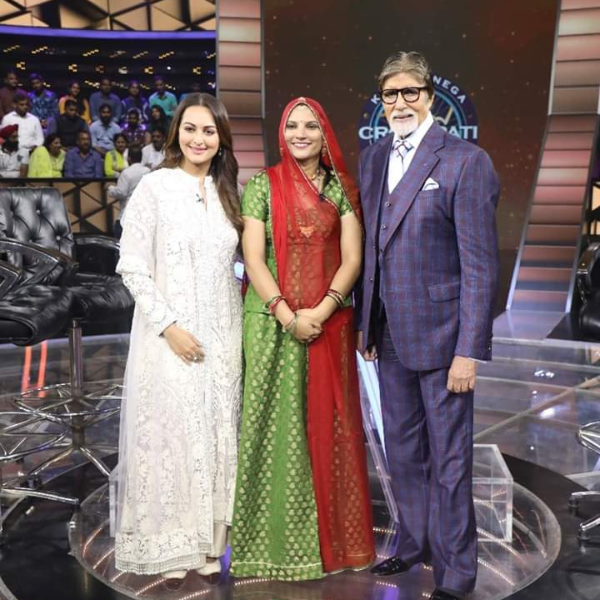 september 2019
Won the Karamveer Award from Amitabh Bachchan on Kaun Banega Crorepati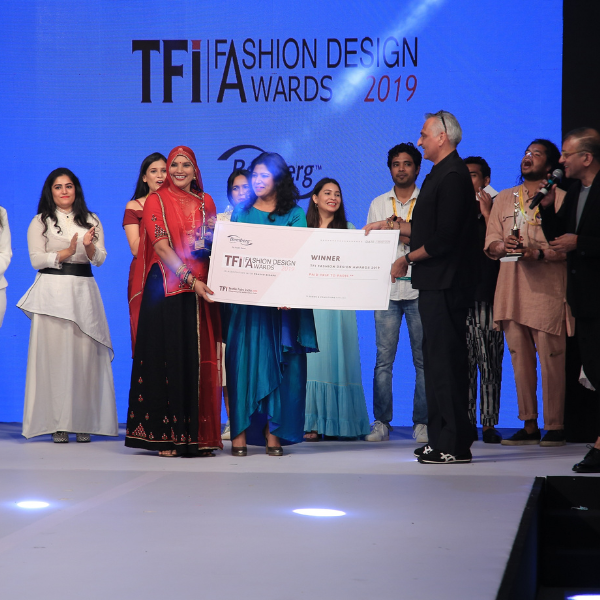 July 2019
Named the Designer of the Year by TFI - Fashion Show
April 2019
Named 'Women of the Decade in Community Leadership' by World Economic Forum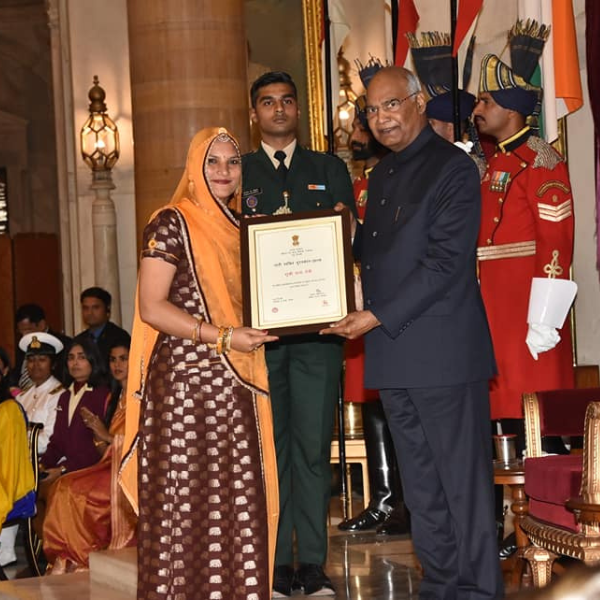 March 2019
Won Nari Shakti Puraskar from the President of India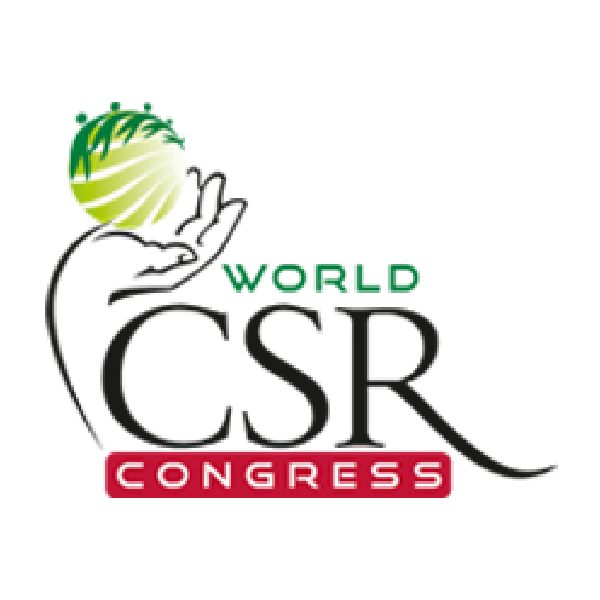 December 2018
Named one of 51 Most Impactful Innovators - World CSR Congress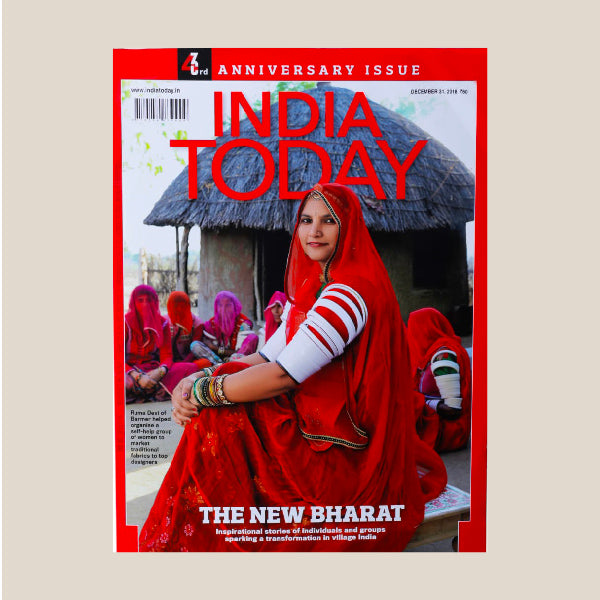 FEBRUARY 2018
Featured on India Today cover page