Meet our artisans
Behind each piece in our collection, is a talented woman artisan who takes pride and joy in every last stitch. We are honoured to have over 30,000 artisans in our team – and we're still growing. Meet some of these incredible women today, and read their inspiring stories.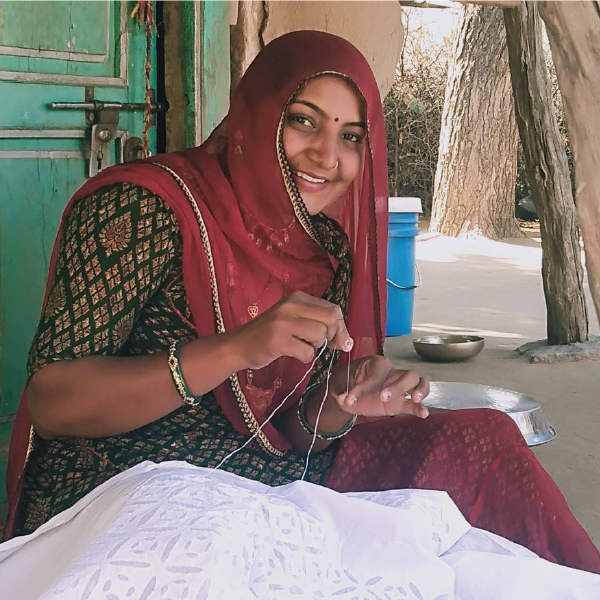 Amru Devi
Amru Devi is a shining example of determination and resilience. Born in 1991 in Barmer, Rajasthan, she faced the cultural barriers that plagued many women in her community. Yet, her spirit remained unyielding. After being married at 18 as per tradition, Amru Devi continued studying, right alongside her husband's academic pursuits. She is one of the few proud Bachelor's degree holders in the community.

Due to financial insecurities, Amru Devi had to sacrifice her dreams of higher education. Not to be defeated, she embraced the opportunity to work and contribute to her family's finances. She sought embroidery training under Ruma Devi's guidance, and with each skillful stitch, Amru Devi became a vital pillar of support, not only for her own family but also for the evolution of GVCS.

Amru Devi's relentless determination bore fruit. Thanks to her sacrifice, her husband was able to continue with his studies and eventually secure a government job. Amru Devi's own career thrived as well – taking her to prestigious fashion shows and even landing her a memorable appearance on Kaun Banega Crorepati, where she proudly represented GVCS alongside Ruma Devi. Today, she deftly manages her household, follows her passion and ensures her two sons receive quality education. Her story is a testament to the power of perseverance and the transformative impact that one person can have on their family and community.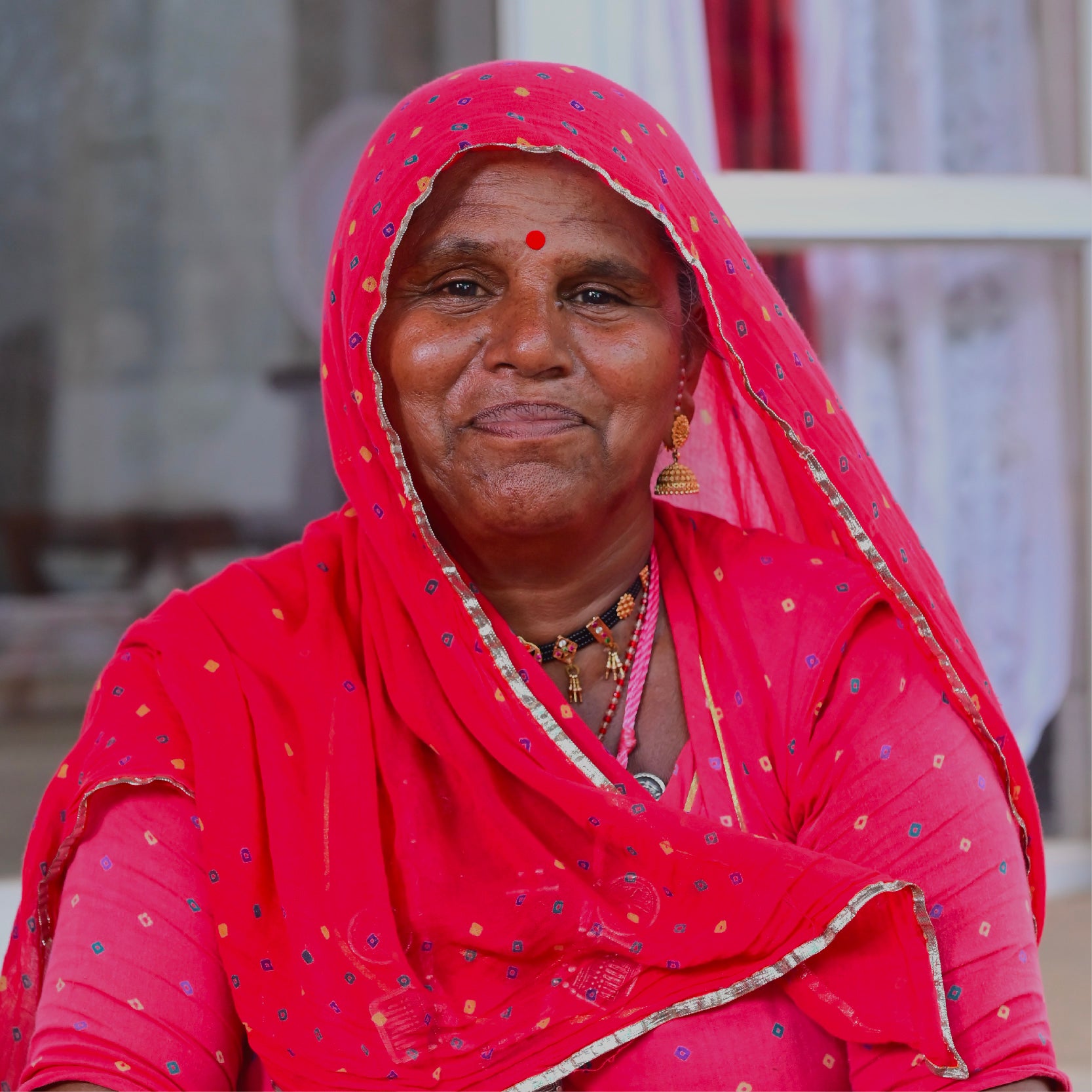 CHHAGNI DEVI
Hailing from the humble village of Mangta in Barmer, Rajasthan, Chhagni Devi was born into a family of farmers. She navigated financial hardships from an early age, and at the age oft 22, she entered a marriage overshadowed by economic struggles. As a mother of nine children, her greatest dream was to provide her kids with opportunities she never had — that of a secure future, and a path to independence.

With traditional embroidery as her sole skill, Chhagni Devi realised that this could help her realise her dreams. With Ruma Devi's mentorship, she tapped into her full potential within Gramin Vikas Evam Chetna Sansthan (GVCS). Renowned for their authentic designs, her handcrafted products garnered recognition both within the village and beyond. Her efforts took her designs to the ramps of esteemed fashion shows and global craft exhibitions, earning applause from eminent personalities. Over 12 years, Chhagni Devi became an integral part of GVCS, representing it across diverse platforms. In the domestic sphere, Chhagni Devi finds solace and pride in her children's accomplishments. She inspired her daughters to learn stitching and embroidery too, and empowered them to forge their own paths to independence. Today, her eldest daughter already stands as a shining example of financial self-reliance. Chhagni Devi's story goes to show that one's destiny truly lies in one's own hands.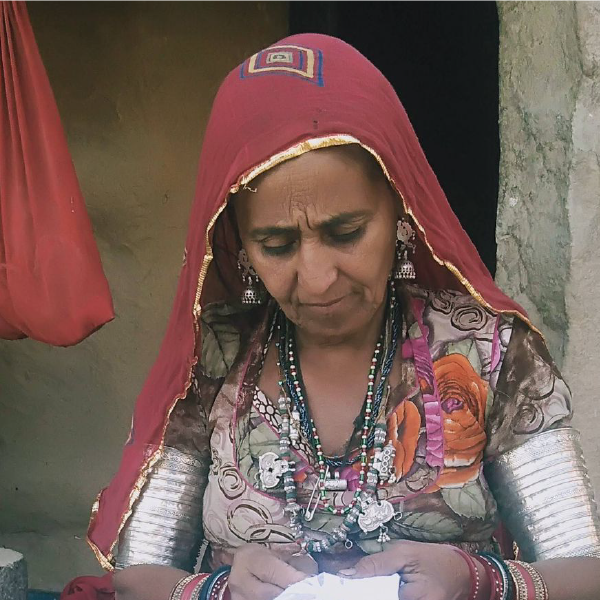 Kamala Devi
In a society where child marriage is commonplace, Kamala Devi found herself married at a tender age. Societal constraints, family struggles and deteriorating financial circumstances could easily have made her feel that that was all there was to life. But she was determined to break the pattern for  her children and secure their future with the best education.

Refusing to accept her predetermined fate, Kamala Devi sought inspiration in Ruma Devi's journey. She reached out to Gramin Vikas Evam Chetna Sansthan (GVCS), immersing herself in the traditional art forms of applique work and embroidery. These skills became the catalysts of her transformation.Today, Kamala Devi has not only transformed the lives of her children but has also become an empowering force for countless women in her community. Walking alongside Ruma Devi for eight transformative years, she stands as a foundational pillar of GVCS. She truly is a beacon of hope and inspiration to those who dare to dream.
Mani Devi 
As one of the pioneering members of the self-help group that initiated Gramin Vikas Evam Chetna Sansthan (GVCS), Mani Devi played an integral role in the organisation from the outset. Her mastery of hand embroidery and applique work were the sole source of income for her family back then. In the early days of GVCS, transportation and electricity were luxuries – but Mani Devi was no stranger to hardships.

Having grown up without parental guidance, and married at 18, Mani Devi was well-versed in crafting her own future. She found a way to travel 10 kilometers on foot to source materials and then again, to deliver her exquisite creations. She fondly recalls the day Ruma Devi ensured the comfort of the women at GVCS by introducing solar lights, thus enabling them to work into the night after completing their household chores.

Today, Mani Devi revels in the joy of a transformed existence, with career growth for herself and big dreams of the best education and boundless opportunities for her children. The best part is that she knows that it is her own resilience and self-reliance that facilitated this.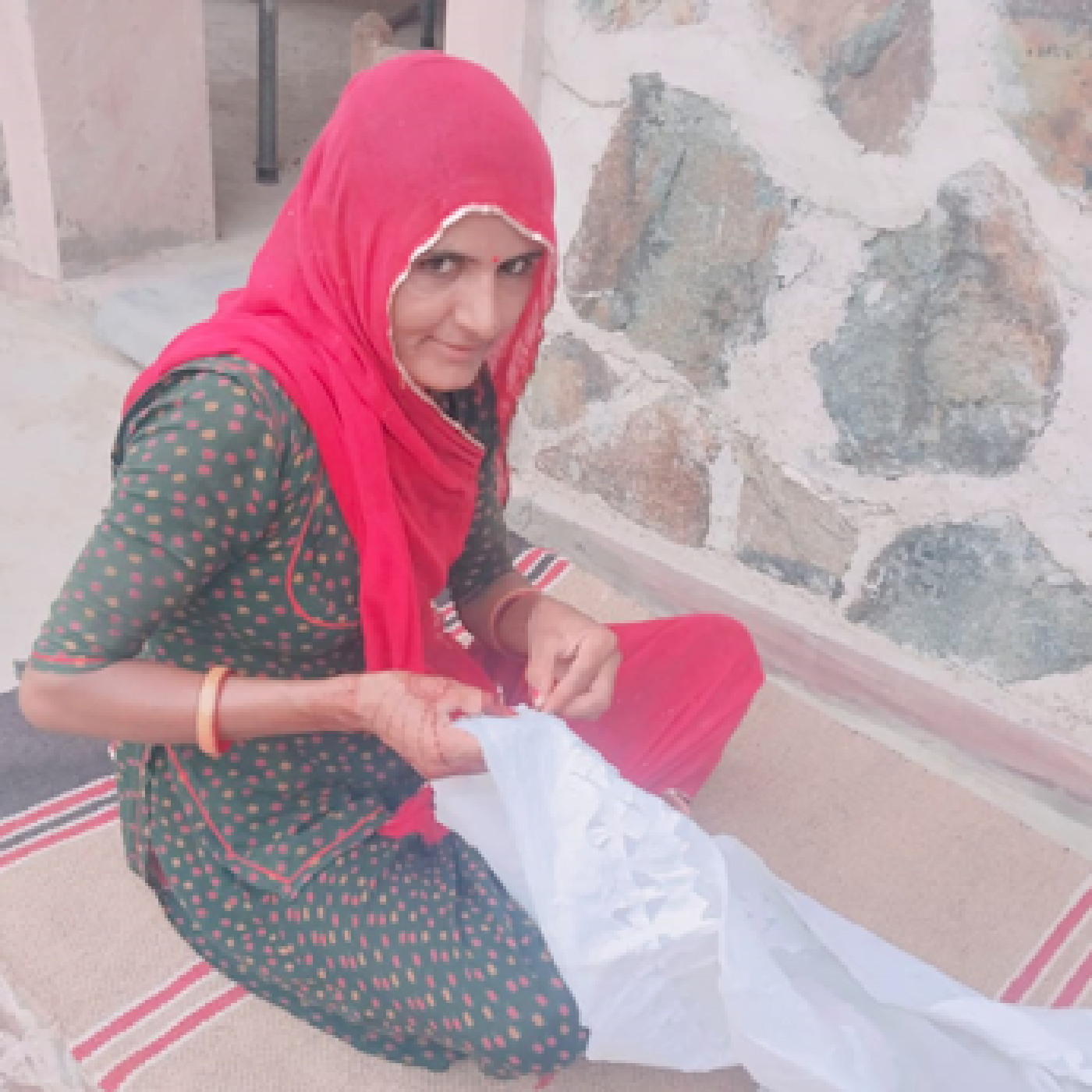 Ansi Devi 
Ansi Devi hails from the humble village of Jakharo ki Dhani. She grew up in Barmer, Western Rajasthan, in a family of eight sisters and a younger brother. Limited electricity, water scarcity, and scorching heat were the way of life. Every day, Ansi Devi would have to take on long journeys across the desert with her mother to fetch water from a distant well.

But even as she traversed this journey, Ansi Devi's dream took her along a different path – a path where she could provide for her family; where she could defy societal norms and stereotypes. She eventually embraced her calling, proudly proclaiming her empowerment as "sashakt".

For the next 12 years, Ansi honed her craft in Kashidakari, not only elevating herself as an artisan, but also inspiring her sisters with her knowledge.  Together, they embarked on the training programs organised by Gramin Vikas Evam Chetna Sansthan (GVCS), learning the art of product creation, marketing and sales.

Today,  Ansi Devi has ascended to the ranks of GVCS's most esteemed artisans. The products she designs showcase her extraordinary talent and meticulous spirit – winning her new accolades and widespread recognition.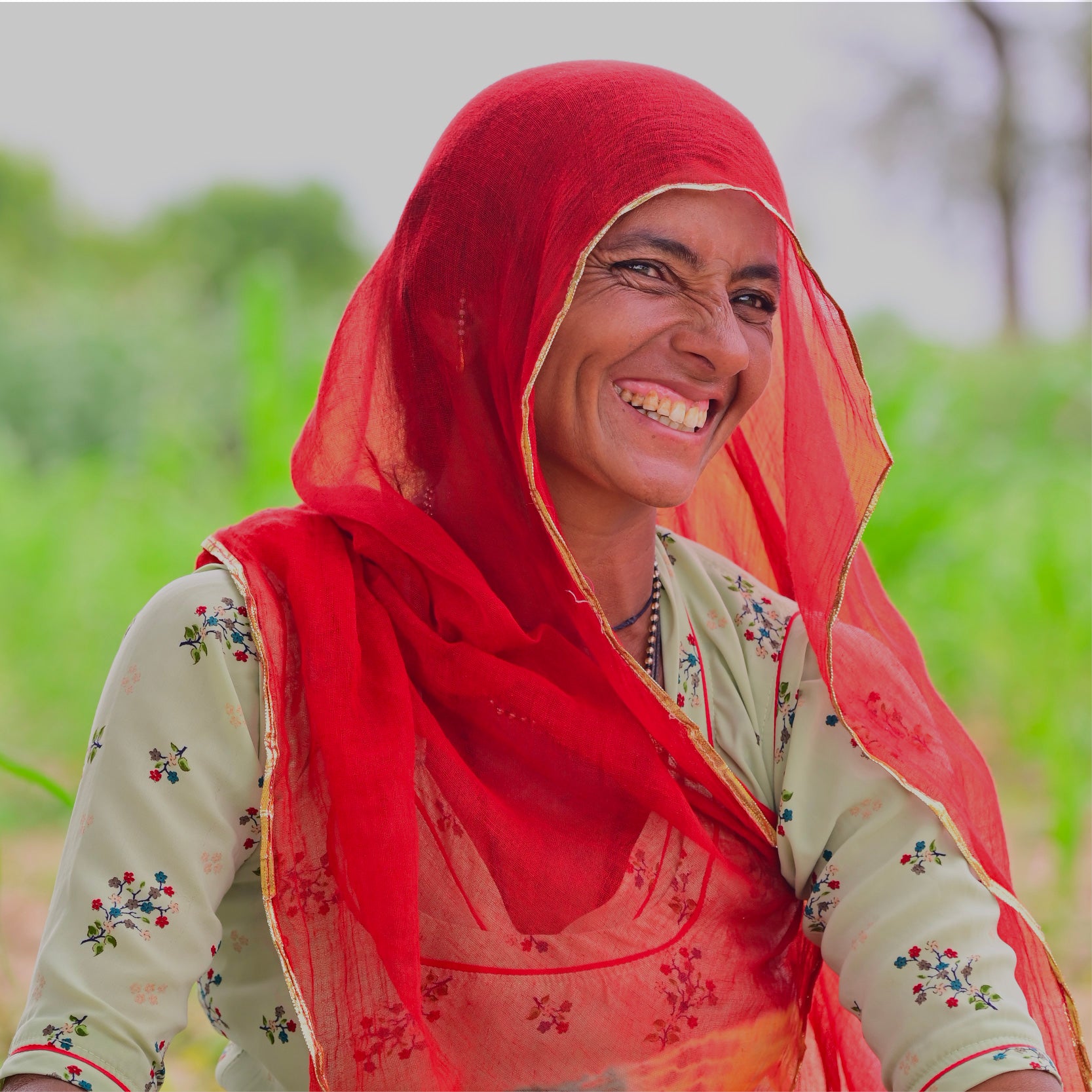 MALU DEVI
Malu Devi's skill of applique stitching is deeply enmeshed in her cultural heritage and her mother's love. Each afternoon, her mother would weave enchanting tales of their ancestors and add to the vibrant tapestry of her own childhood, while she passed down the knowledge of her craft to Malu Devi.

These precious memories held a special place in Malu Devi's heart, even after her marriage. As a dedicated wife and a mother of two sons and a daughter, Malu Devi's days would begin with tending to her family's needs. But after her family left for work or to go to school, she would pick up her craft and find herself drifting back to her cherished past. Every time she pricked her fingers with the needle, she would yearn for her mother's gentle touch.

Eventually, destiny brought her to Gramin Vikas Evam Chetna Sansthan (GVCS), and since then, Malu Devi has been an integral part of our organisation. Today, she supports her family with immense pride, while also while also working to expand her horizons, educate her children, and preserve her cultural heritage and her roots.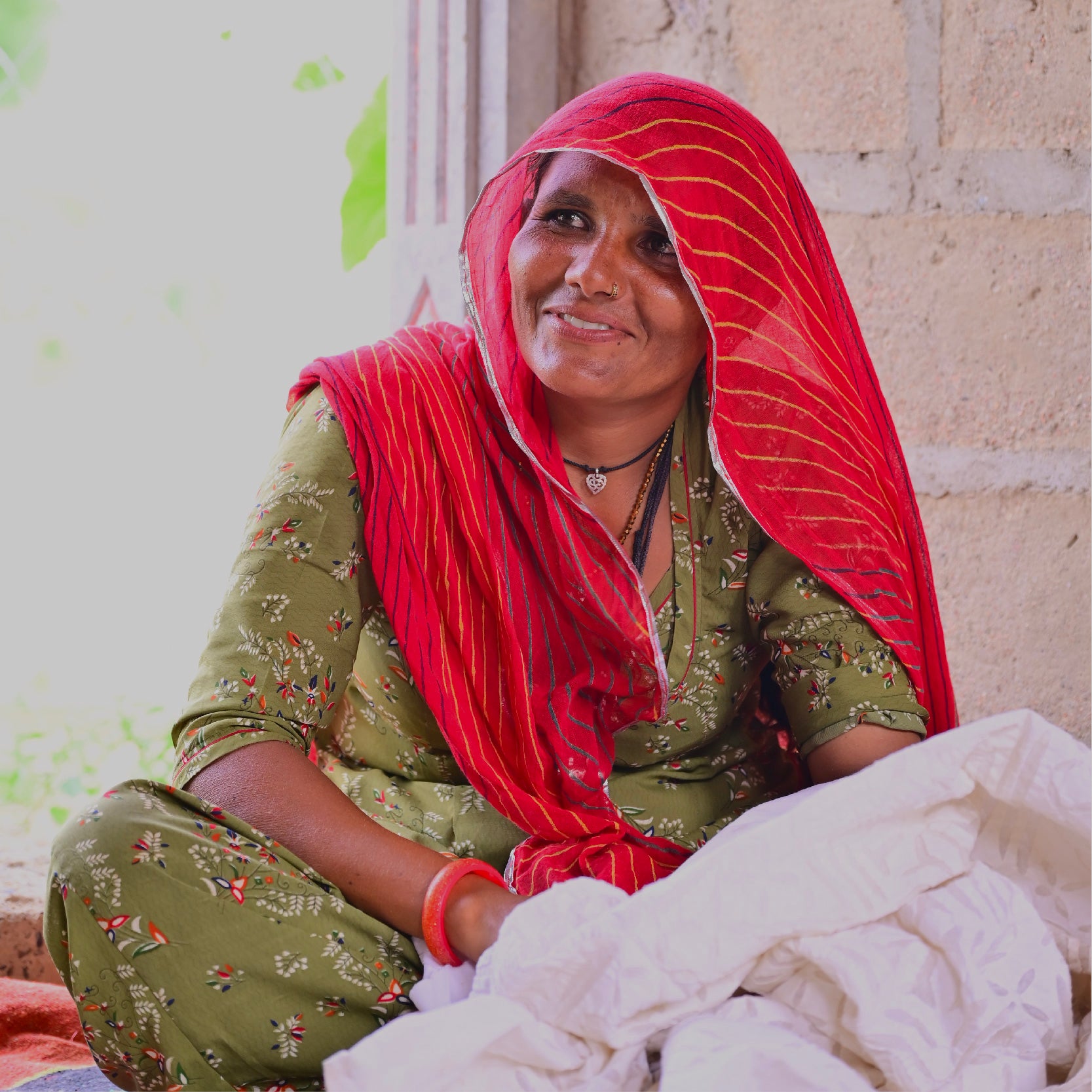 Jhabu Devi
Jhabu Devi is a nurturing mother to two boys and two girls. But she is also a devoted artisan to the craft of Kashidakari. Her journey began at a young age when she first picked up the needle and thread and it provided her with immense solace, even after marriage. It was a turning point in her life when Gramin Vikas Evam Chetna Sansthan (GVCS) visited her village for an enlightening workshop.

While her husband toiled as a laborer in the fields, Jhabu Devi would tend to the goats. As the goats grazed, Jhabu Devi would sit under the shade of a tree and get on with her applique work provided by GVCS. She did some of her best work during those tranquil afternoons.

Her association with GVCS and the work she did brought her a profound sense of accomplishment and fulfillment, while enabling her to contribute to her family's well-being. She wholeheartedly participated in all the training sessions, and with the stitching machine provided by the GVCS,  she has been able to independently create, market, and sell her products from the comfort of her home.

Jhabu Devi's story exemplifies the transformative power of artistry and its capacity to uplift lives.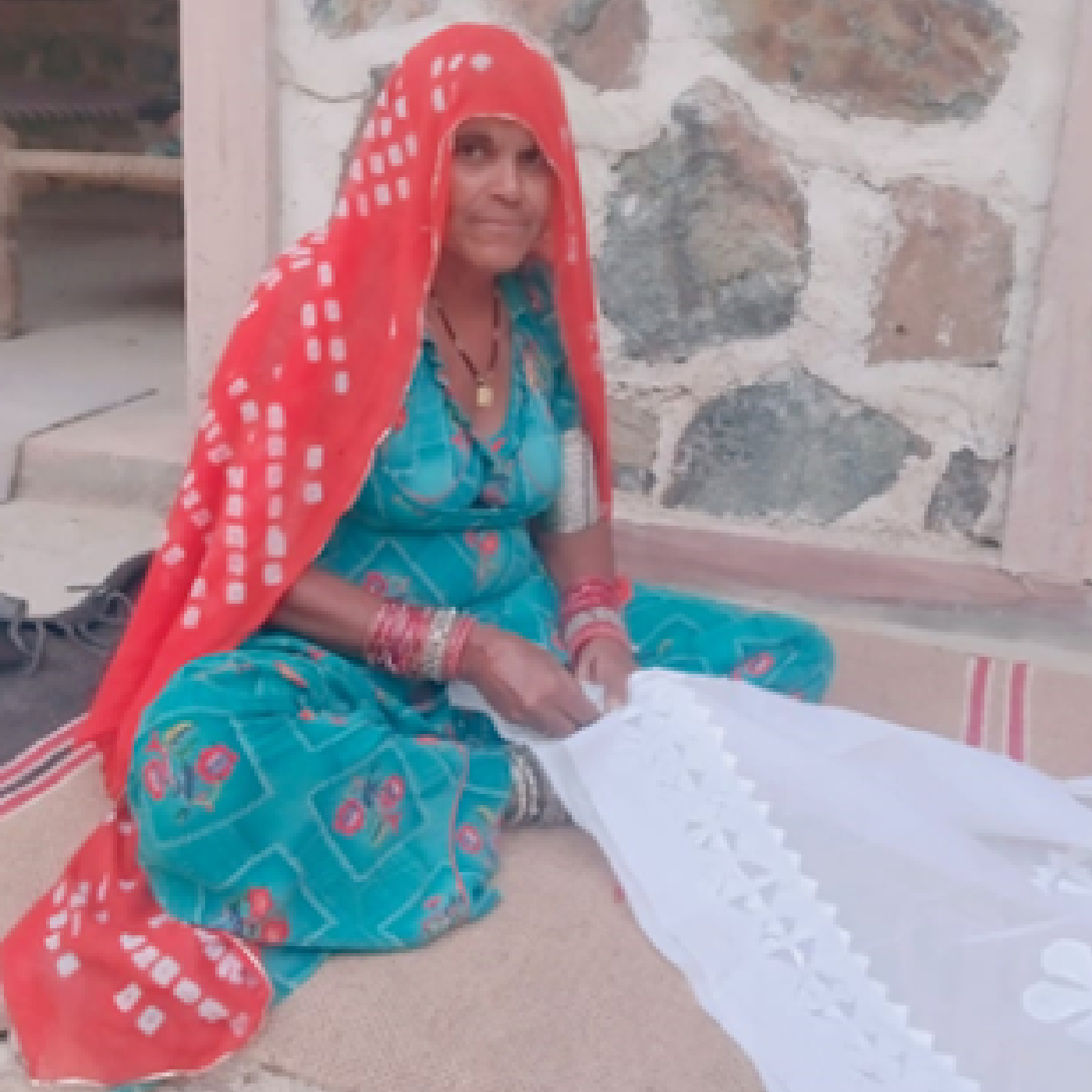 Nenu Devi
Nenu Devi comes from a background of simplicity, hardship and tradition. Born and raised in the village of Jojdi ki Dhani, Barmer, her daily routine was marked by arduous journeys under the scorching sun of the Thar desert, travelling miles to fetch water with matkas balanced upon her head. She would return to a dark home that did not have the luxuries of electricity or basic sanitation.

Today, Nenu Devi navigates the vibrant exhibitions of Kutchh, Gujarat, showcasing her exquisite handmade creations. 

It was Ruma Devi who was the catalyst to this change. She introduced Nenu Devi to the art of applique during a transformative field visit to her village. Since then, Nenu Devi has embraced her craft wholeheartedly, diligently undertaking GVCS projects every month. In just five years, she has honed her stitching skills, evolving as an innovative designer and adept negotiator at fairs and exhibitions.

Nenu Devi radiates motivation and serves as an eternal wellspring of inspiration for all women within our GVCS family. With her unwavering spirit, she demonstrates the limitless potential that lies within every woman.