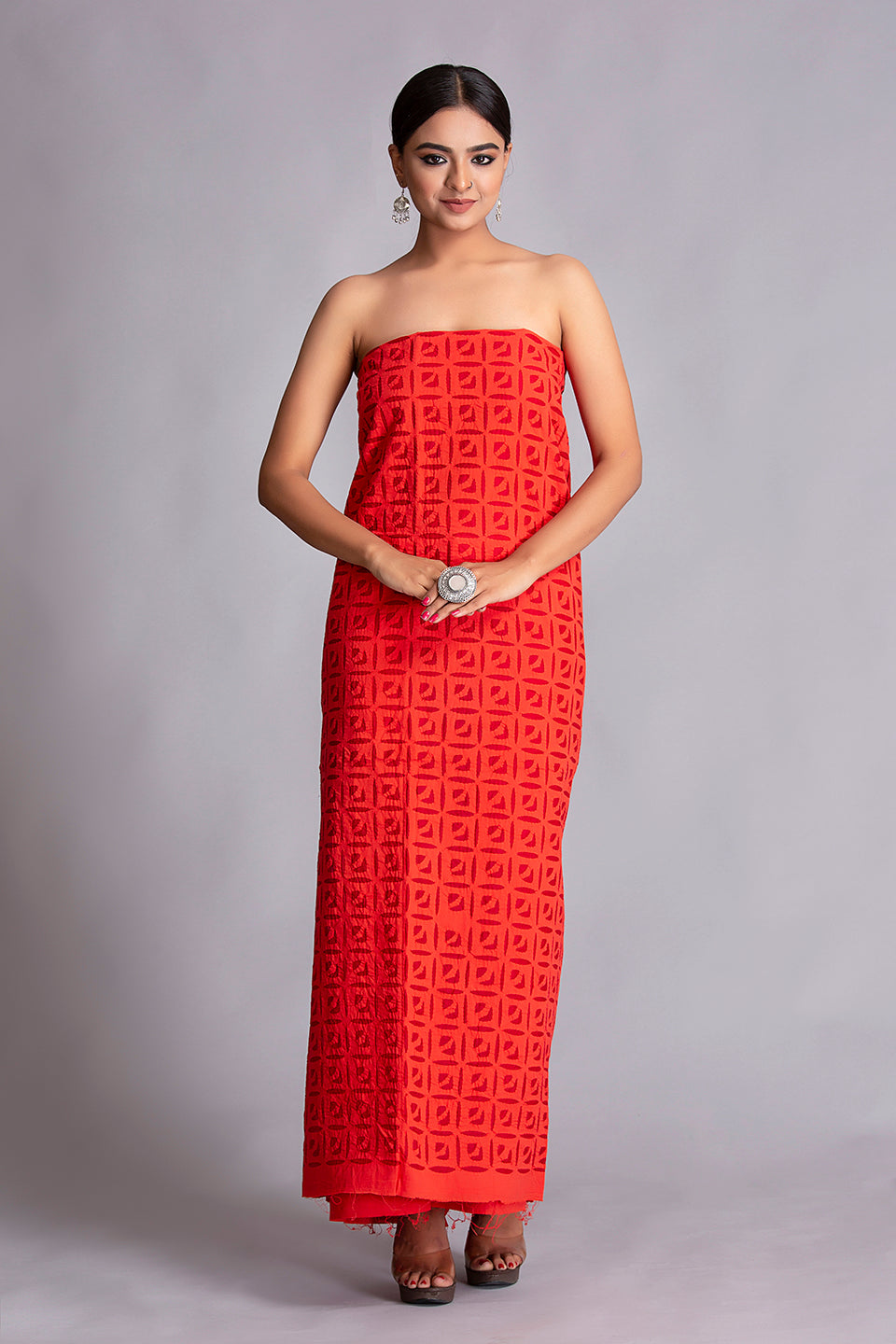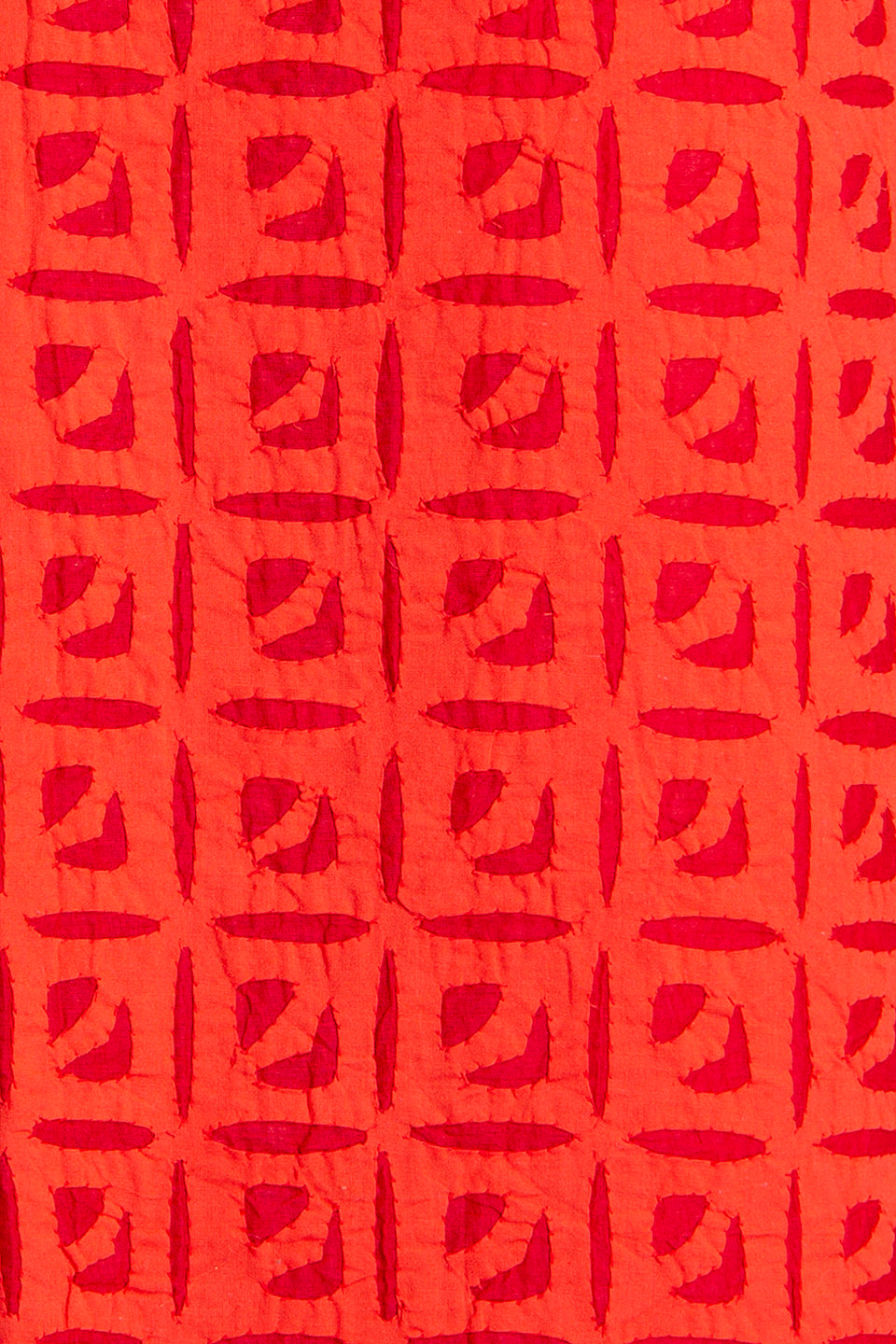 Kurta Fabric Applique Box Khuddi Design, Red
Sale price
Rs. 3,777.20
Regular price
(/)
Ships within 7 to 10 working days.
---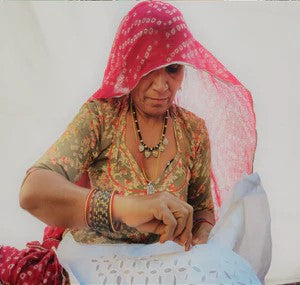 The kurta you have chosen features a beautiful blend of traditional applique technique with modern motifs, resulting in a classy and stylish look.

The front of the kurta showcases an intricate applique design measuring 45.5x27.5 inches, created with meticulous craftsmanship and stunning motifs. This applique work adds depth and visual interest to the kurta, creating an elegant and eye-catching effect.

The cuffs of the kurta are also adorned with a smaller applique design measuring 13.5x2 inches, adding a touch of detail and sophistication to the sleeves. This subtle embellishment on the cuffs complements the overall design of the kurta, enhancing its aesthetic appeal.

To complete your ensemble, you have the option to pair the kurta with either a same-toned applique dupatta or a contrasting applique dupatta. Choosing a same-toned dupatta will create a cohesive and coordinated look, allowing the applique work to stand out and adding a sense of harmony to your outfit.

On the other hand, opting for a contrasting applique dupatta will create a striking and vibrant contrast, adding an element of visual interest and making a bold fashion statement.

The back of the kurta is left plain, providing a clean and minimalist backdrop that allows the front applique design to take center stage. This design choice ensures that the focus remains on the intricate applique work and the beautiful motifs, creating a balanced and well-composed look.

Overall, this kurta with its traditional applique technique and modern motifs is a perfect choice for those who appreciate both classic and contemporary elements in their attire. Whether you choose to pair it with a same-toned or contrasting applique dupatta, it will enhance your style and add a touch of elegance to any occasion.
Specifications

Material: Cotton Cambric and Organdy

Colour: Red

Crafts Involved:


Care Instructions:
Hand wash in cold water, do not bleach, medium hot iron reverse side, do not expose in sunlight.
Natural dyes and bright colours tend to bleed, First wash dry clean advised. For subsequent home washes, use only fabric conditioner. Dry in shade only. Due to involvement of hands at each level, the product may vary slightly with the specifications.

Dispatch Timeline: Ships within 7 to 10 working days.

Return Policy: Refer to the return policy

Manufactured By: Ruma Devi Craft Center, Opposite Kisan Girls Hostel, Bank of Baroda Street, Baldevl Nagar, Barmer, Rajasthan, 344001

Packaged By: Ruma Devi Craft Center, Opposite Kisan Girls Hostel, Bank of Baroda Street, Baldevl Nagar, Barmer, Rajasthan, 344001

Marketed By: Ruma Devi Craft Center, Opposite Kisan Girls Hostel, Bank of Baroda Street, Baldevl Nagar, Barmer, Rajasthan, 344001

Country Of Origin: India
Choose options