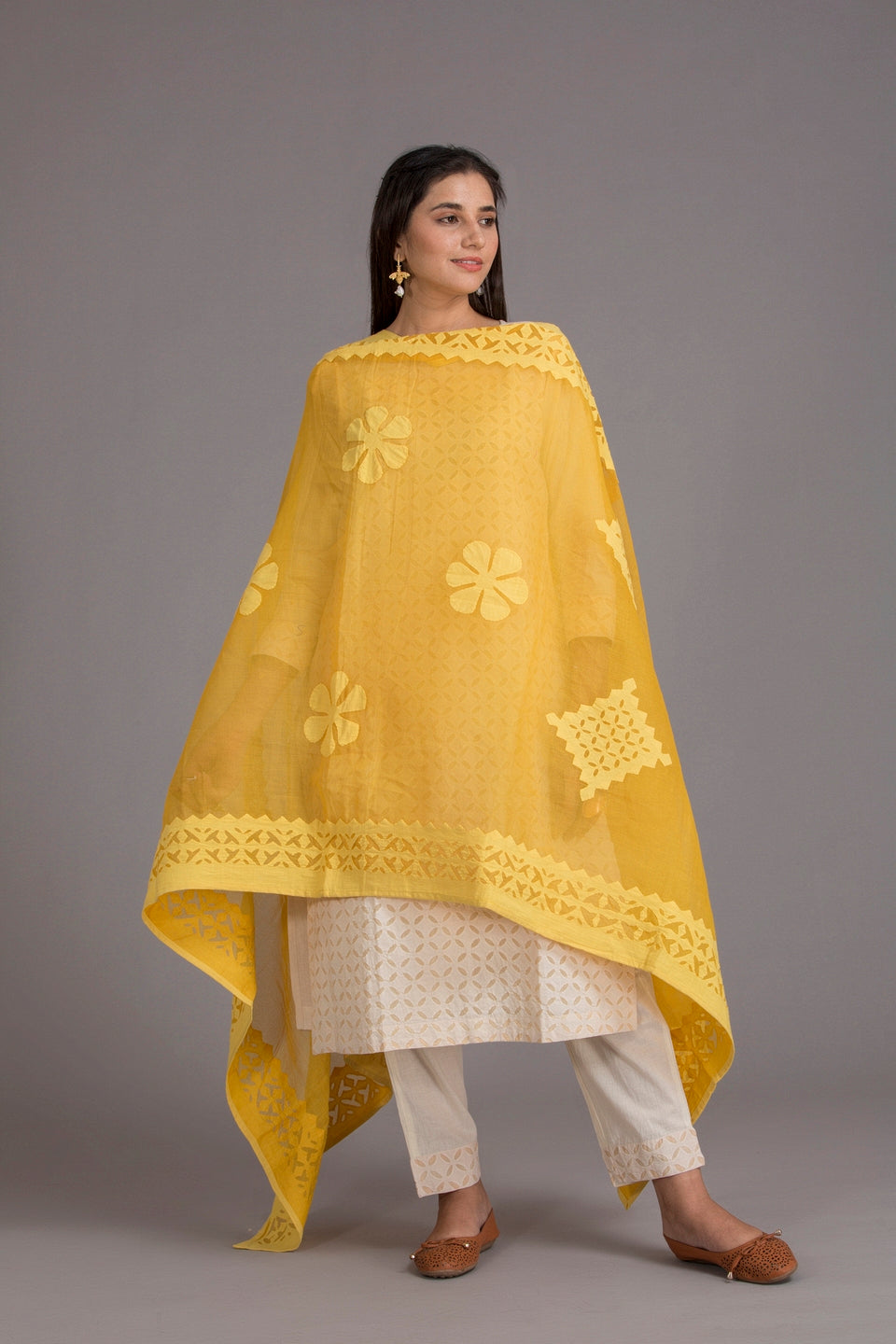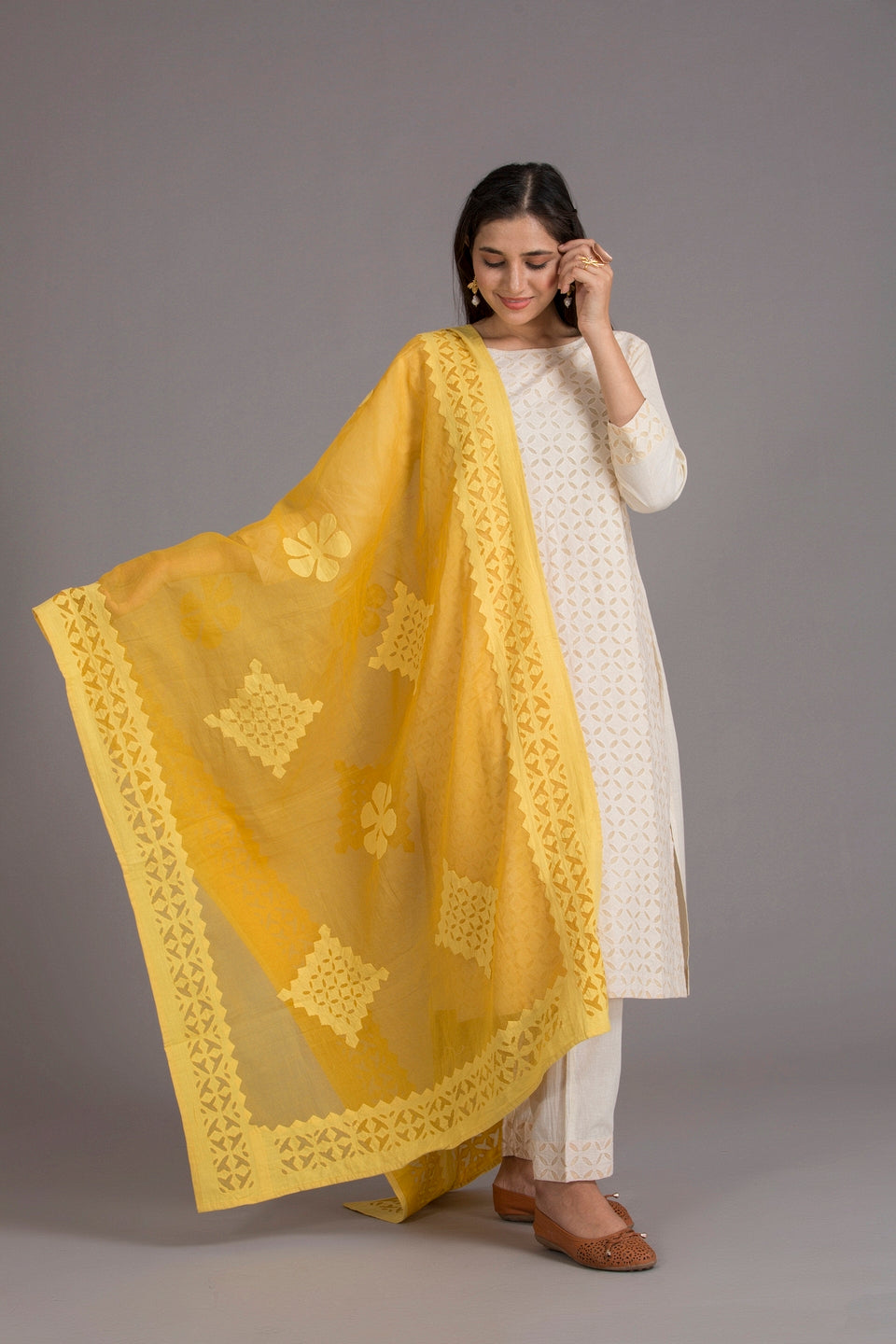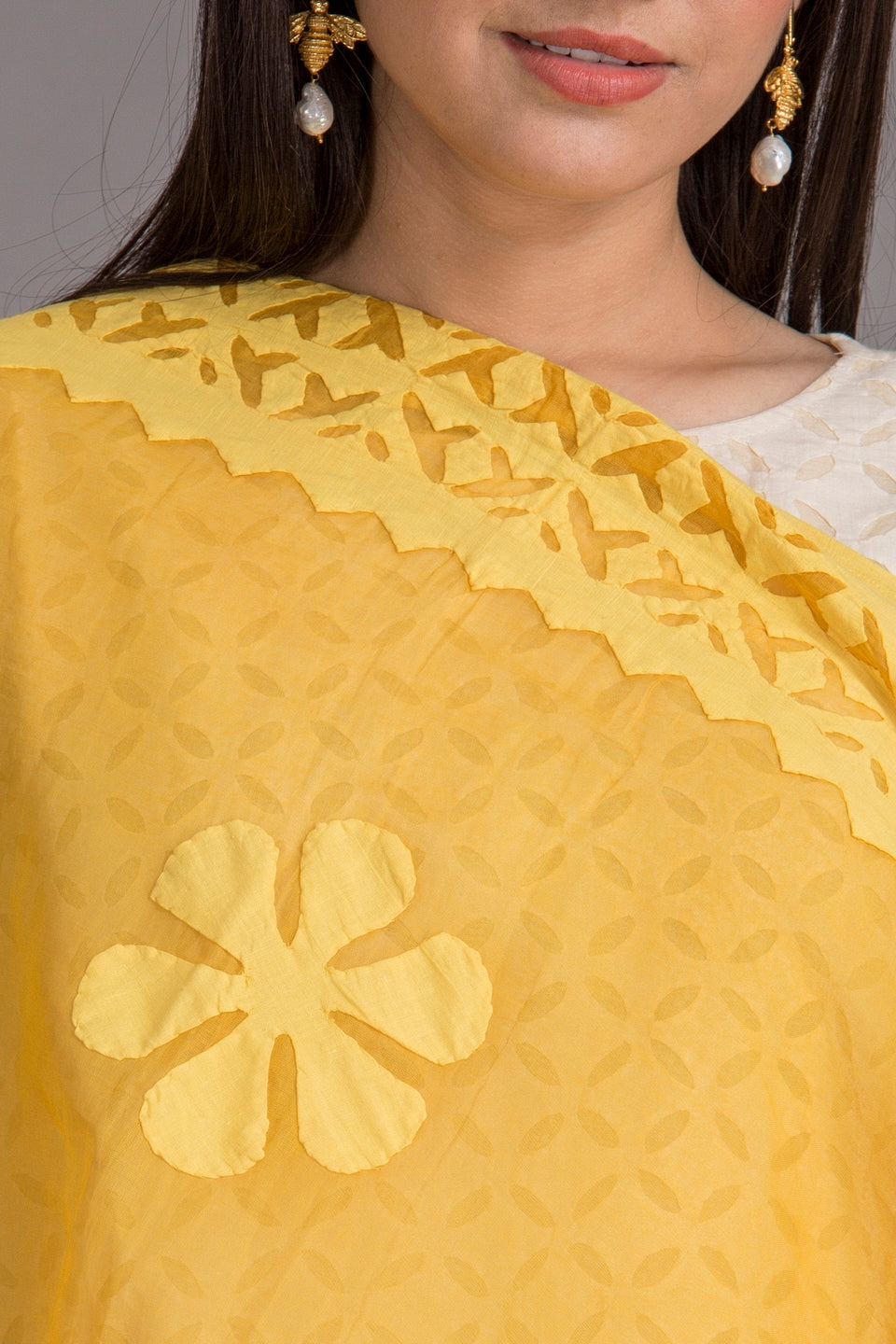 Duppatta Floral Diamond Applique Cotton with Ball Design Border, Mustard Yellow
Sale price
Rs. 4,337.20
Regular price
(/)
Ships within 7 to 10 working days.
---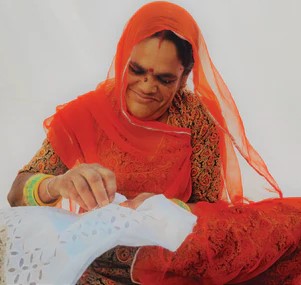 Introducing our exquisitely handcrafted dupatta, designed with a perfect balance of comfort and elegance. We carefully select high-quality fabrics to ensure a luxurious feel against your skin. This intricately crafted dupatta can be paired with any contrasting color of your kurta or chosen from our extensive craft library, allowing you to create a personalized and unique look.

The dupatta features a beautiful 5-inch applique border that gracefully adorns all sides. This border adds a touch of sophistication and refinement to the overall design, showcasing the skill and artistry of our craftsmen. Additionally, the dupatta is embellished with 12 delicately crafted flowers, each measuring 4.5 x 5 inches. These floral motifs add a touch of femininity and elegance to the dupatta, creating a captivating visual impact.

To further enhance its charm, we have incorporated 5 dazzling diamonds, each measuring 8 x 8 inches. These diamonds are strategically placed throughout the dupatta, adding a touch of sparkle and glamour to your ensemble. The combination of the applique border, floral motifs, and diamonds creates a harmonious and visually appealing design.

Not only is this dupatta a stylish accessory, but it is also crafted with your comfort in mind. The carefully sourced finish fabrics ensure a soft and smooth texture, allowing you to wear it with ease throughout the day. Whether you are attending a special occasion or simply want to elevate your everyday attire, this intricately handcrafted dupatta is the perfect choice.

Its timeless design and attention to detail make it a versatile accessory that can effortlessly elevate any outfit. Choose this handcrafted dupatta to add a touch of elegance and charm to your wardrobe. Its versatile design and exquisite craftsmanship make it a valuable addition to your collection. Pair it with contrasting colors or explore our craft library for more options, allowing you to create unique and eye-catching ensembles that reflect your personal style.

Experience the comfort, elegance, and craftsmanship of this finely crafted dupatta. The 5-inch applique border, delicate floral motifs, and dazzling diamonds come together to create a truly remarkable piece. Embrace the timeless beauty and elegance of this handcrafted dupatta, and let it become a statement accessory that showcases your impeccable taste and style.
Specifications

Material: Cotton Cambric and Organdy

Colour: Mustard Yellow

Crafts Involved:


Care Instructions:
Hand wash in cold water, do not bleach, medium hot iron reverse side, do not expose in sunlight.
Natural dyes and bright colours tend to bleed, First wash dry clean advised. For subsequent home washes, use only fabric conditioner. Dry in shade only. Due to involvement of hands at each level, the product may vary slightly with the specifications.

Dispatch Timeline: Ships within 7 to 10 working days.

Return Policy: Refer to the return policy

Manufactured By: Ruma Devi Craft Center, Opposite Kisan Girls Hostel, Bank of Baroda Street, Baldevl Nagar, Barmer, Rajasthan, 344001

Packaged By: Ruma Devi Craft Center, Opposite Kisan Girls Hostel, Bank of Baroda Street, Baldevl Nagar, Barmer, Rajasthan, 344001

Marketed By: Ruma Devi Craft Center, Opposite Kisan Girls Hostel, Bank of Baroda Street, Baldevl Nagar, Barmer, Rajasthan, 344001

Country Of Origin: India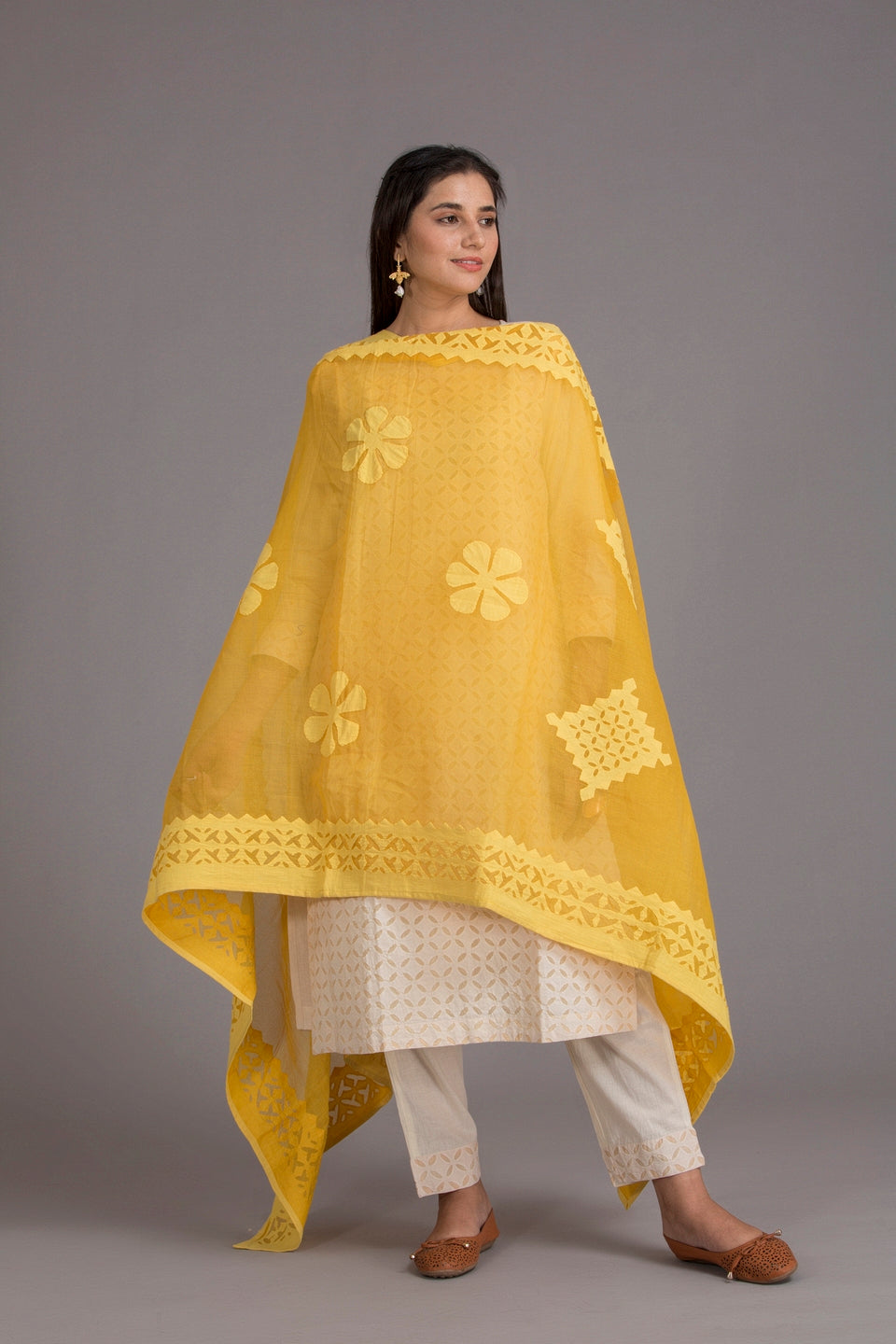 Duppatta Floral Diamond Applique Cotton with Ball Design Border, Mustard Yellow
Sale price
Rs. 4,337.20
Regular price
Choose options